Summer is here for sure as a heat wave is passing Poland. I can't cook anything hot because I will definitely melt 😉 so this week is all about salads and gazpachos. As I was watering the garden I spotted a lot of baby zucchini and wanted to do something with them and I came up with this salad, inspired by one of my fav salads of all time tabouleh.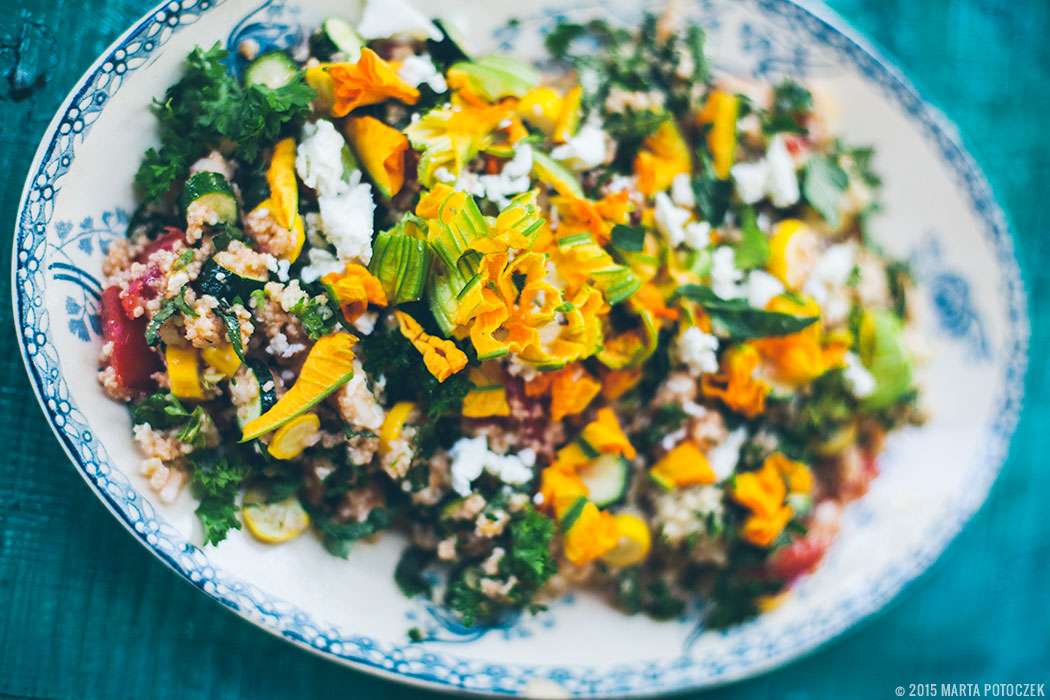 RECIPE – COUSCOUS SALAD WITH BABY ZUCCHINI
half cup dry couscous
100 g feta
cup loosely packed chopped mint and parsley
2 medium tomatoes
1 small red onion
5 baby zucchini(preferably with flowers)
juice of half a lemon
olive oil
salt, pepper
Put couscous in a bowl, boil water and pour it over couscous. I usually add as much water so there is 1 cm over the grain. Put a small plate on the bowl and leave until cool. Fluff with a fork. Chop tomatoes, zucchini and their flowers. Chop onion finely. In a bowl mix couscous, tomatoes, zucchini, mint and parsley. Add lemon juice, olive oil, and pepper. Crumble feta and mix gently. Check if it needs any salt. Sprinkle flowers on top.