Over the years I changed my diet many times, adding and excluding things I can or cannot eat. And along the way I noticed that sometimes it had huge impact on my skin. So after realising which fellas are responsible for the amazing glow of my not so young skin I try to add them to my meals as often as possible. And it really works.
The most important factor is of course water- the moment I start pouring more than 2 litres of fluids(water, juices and vegetable soups) I notice immediate results. When it's hot and I exercise it's even more than 3 litres a day.
Next on my list there are:
-nuts
-avocado,
-good oils like olive, coconut and flaxseed oil
-carrot juice, orange juice and anything pumpkin
-did I mentioned water?
When we came back from our Bali holiday we landed in cold snowy Poland and my skin got attacked by dry air, heating and harsh weather conditions. So as usual I first look what can I do to help with the way I eat and drink and then go into beauty regimen that consists of sugar/sea salt or coffee scrubs with coconut oil(I make them myself just before use) and the lots and lots of lotion with shea butter. I make it myself or use my favourite one from L'Occitane
I headed to my favourite Asian market yesterday with plans for this super crunchy salad with sprouts. I know it's not nice to rave about your own recipes but this one is just so awesome you have to try it. And healthy and good for your skin. Just go, go go and make some 🙂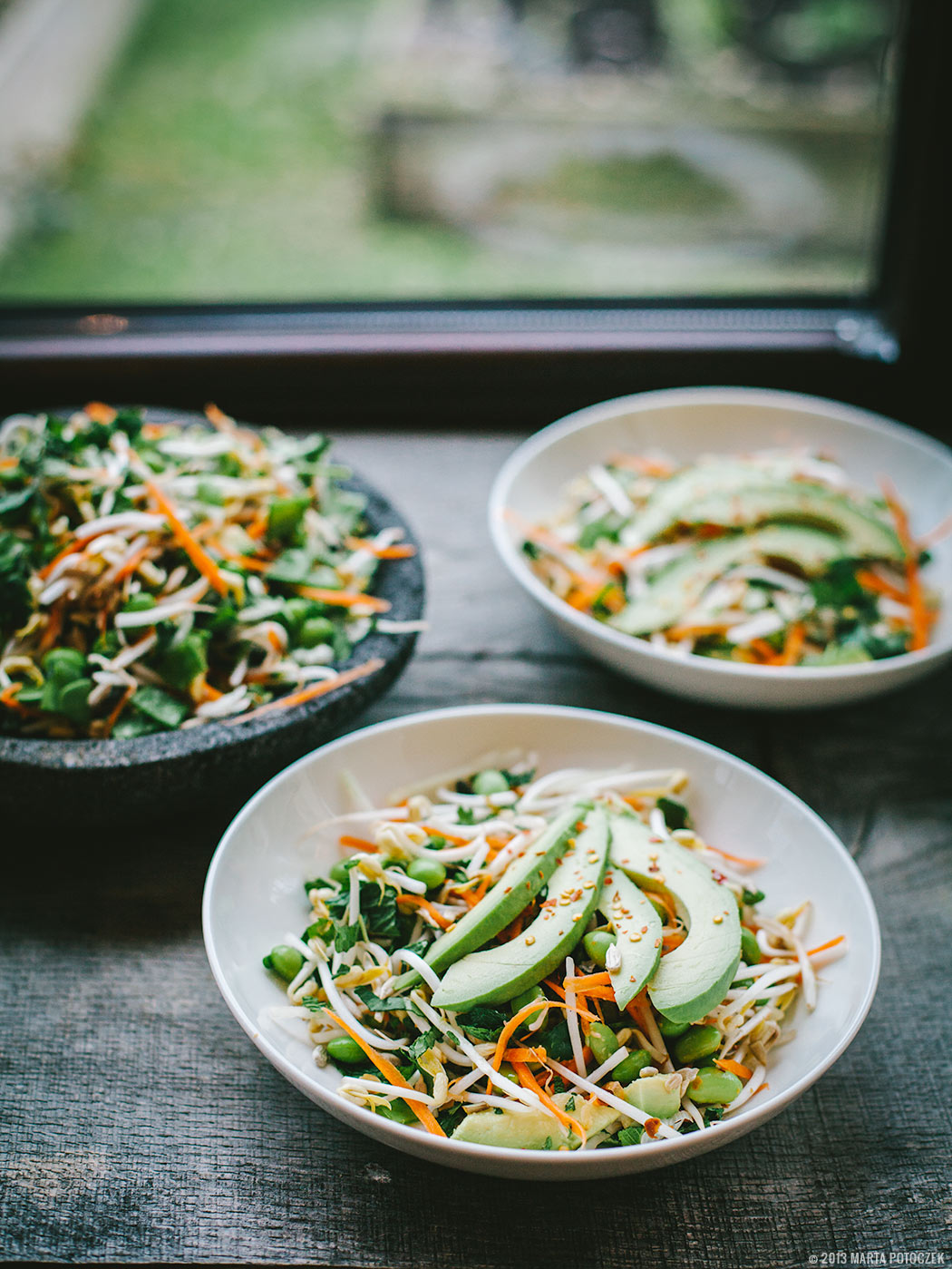 RECIPE – CRUNCHY GLOWING SKIN SALAD
2 handfuls of mung bean sprouts
1 carrot cut into thin stripes
1 kohlrabi cut into thin stripes
1 cup shelled edamame
1 hass avocado cut into cubes
3 tablespoons of mint, minced
3 tablespoons of coriander leaves, minced
3 tablespoons of Thai basil, minced
100g sugar snap peas, cut thinly
two handfuls of peanuts, toasted
3 T soy sauce
3 T rice vinegar
3 T mirin
2 T maple syrup
chilli flakes, lime wedges to serve
Mix all the veggies and herbs in a bowl, toss gently with your hands. Mix soy sauce, vinegar, miring and maple syrup in a jar. Shake to mix well. Pour over salad. Sprinkle with toasted peanuts. Serve with lemon wedge and chilli flakes on the side. Feeds four hungry people. I'm heading into the kitchen to make some more!