I am a very curious person and I hate taking something for granted just because someone says so. I love researching, learning the hard way and hate when companies think of their customers as mindless sheep. I always read labels and try new hype super foods with doubt in the back of my mind. Of all the super foods I like using chia and spirulina. My body feels better after I have them, my blood pressure lowers. I don't believe that they are magical cures for everything as they are often described but I feel they are just one more good food for me.
But what I love about chia seeds most is that that make amazing puddings, fill you up like charm and taste amazing. And the amount of work in the kitchen is 2-3 minutes tops.
If it's new to you I can also tell you what they say about it's health benefits if you wish. Because it slows digestion it will work well on your sugar levels. It will fuel you with omega 3 acids which are crucial to fighting inflammation in your body.They will also give you fibre, calcium, manganese and phosphorus. Sounds good, doesn't it?
But what I love most is the speed of the breakfast or dessert. When I know I will be short on time in the morning I prepare the pudding in the evening and put it in the fridge.
This week I was driving next to peach orchard and saw the most beautiful peaches ever. I bought 15 kg, so imagine how perfect they looked and tasted 😉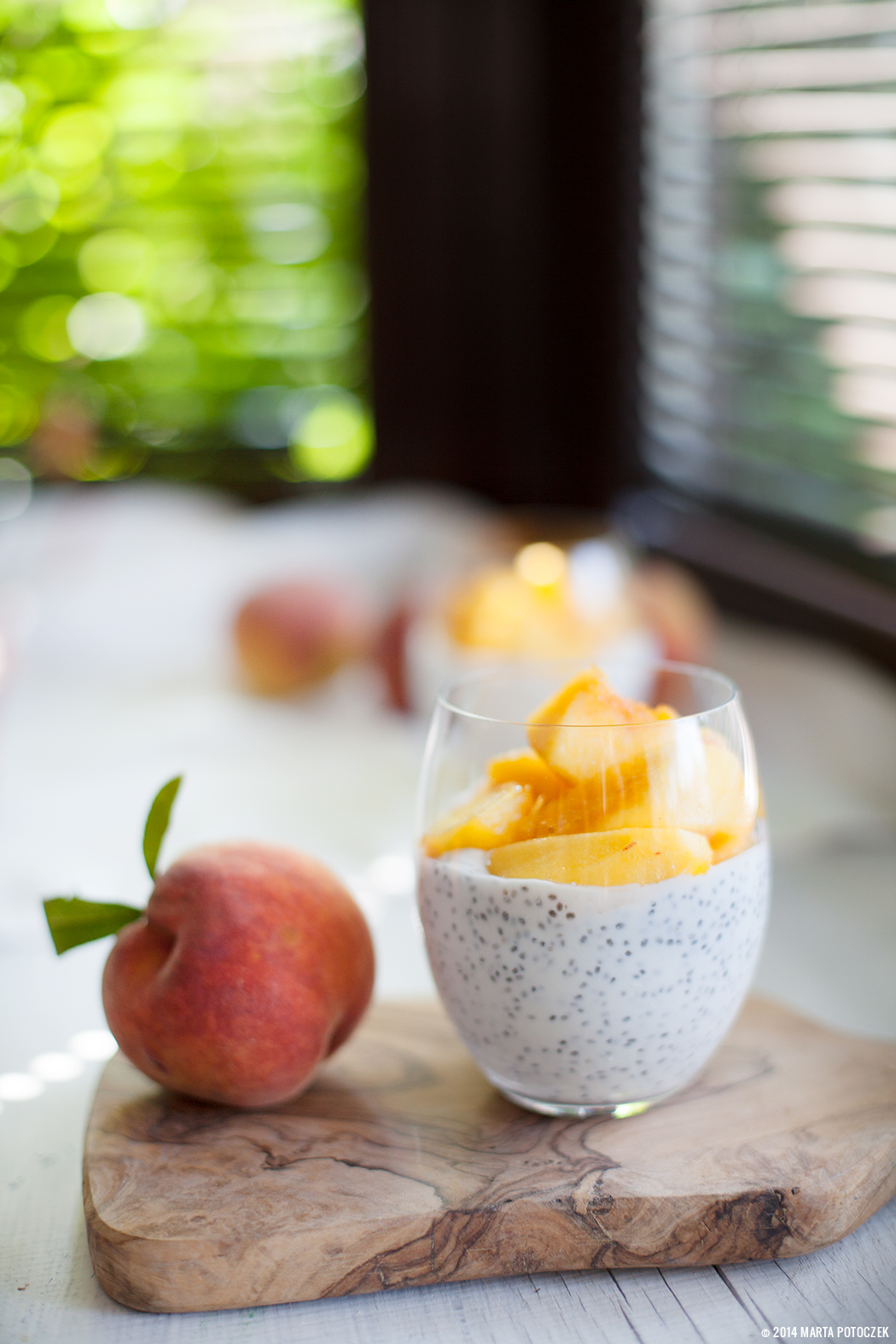 RECIPE – CHIA PUDDING WITH PEACHES
3 peaches, stoned, skinned and sliced
1 cup low fat, sugar free Greek yogurt
1 cup coconut milk
3T 100% maple syrup
1/4 cup chia seeds
Prepare the pudding few hours before eating, I prefer to leave it in the fridge overnight.
In a bowl whisk yogurt with coconut milk and maple syrup and chia seeds. Put in the fridge for few hours until thick. Serve with sliced peaches.Serves two hungry people.