I remember all of our childhood summer ends filled with lecho. This Hungarian dish is very popular in my country and makes a lovely dinner fast, uses all the ingredients from my August garden and just tastes amazingly good. I like to make a big batch and store it in a fridge in jars, so whenever someone is hungry I have a meal that needs to be warmed up, maybe a chorizo or other sausage added and, voila, a tasty dish is served to my loved ones.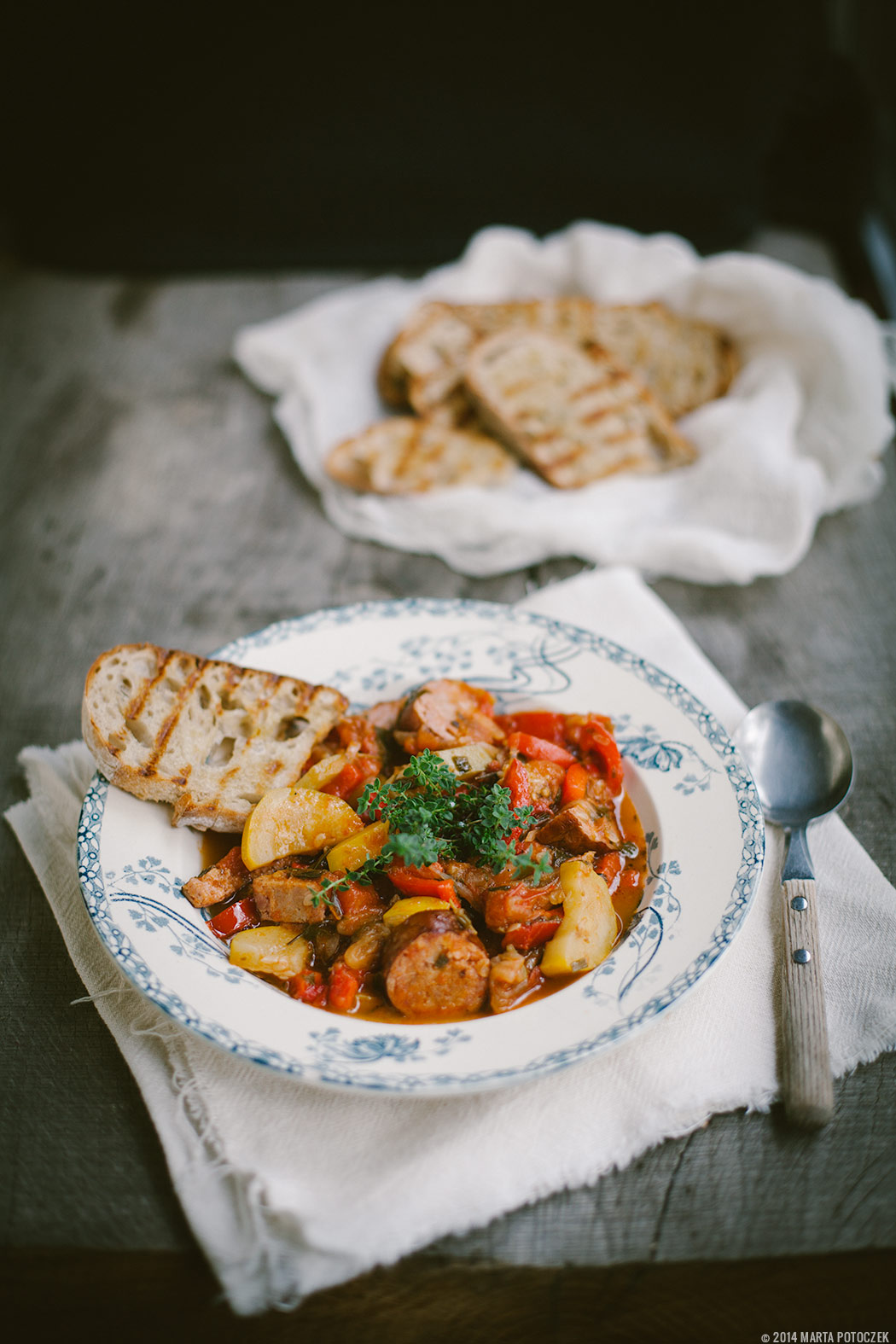 I like to make a canned or freezes version as well, I just don't add onions or garlic, as it tends to spoil early.
For perfect taste use heirloom organic veggies. I use small zucchinis, vine ripened tomatoes and perfectly sweet red peppers. On the picture below are giant zucchinis that we missed under the leaves…not sure what I'll use them for, but they look so funny I wanted to show you how crazy they can get.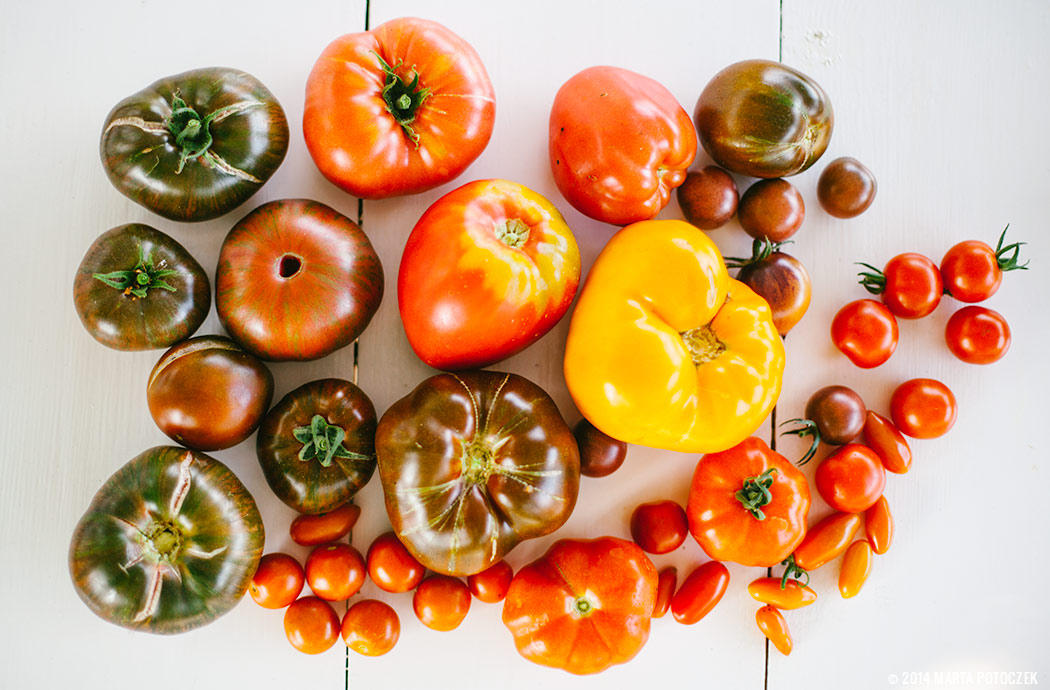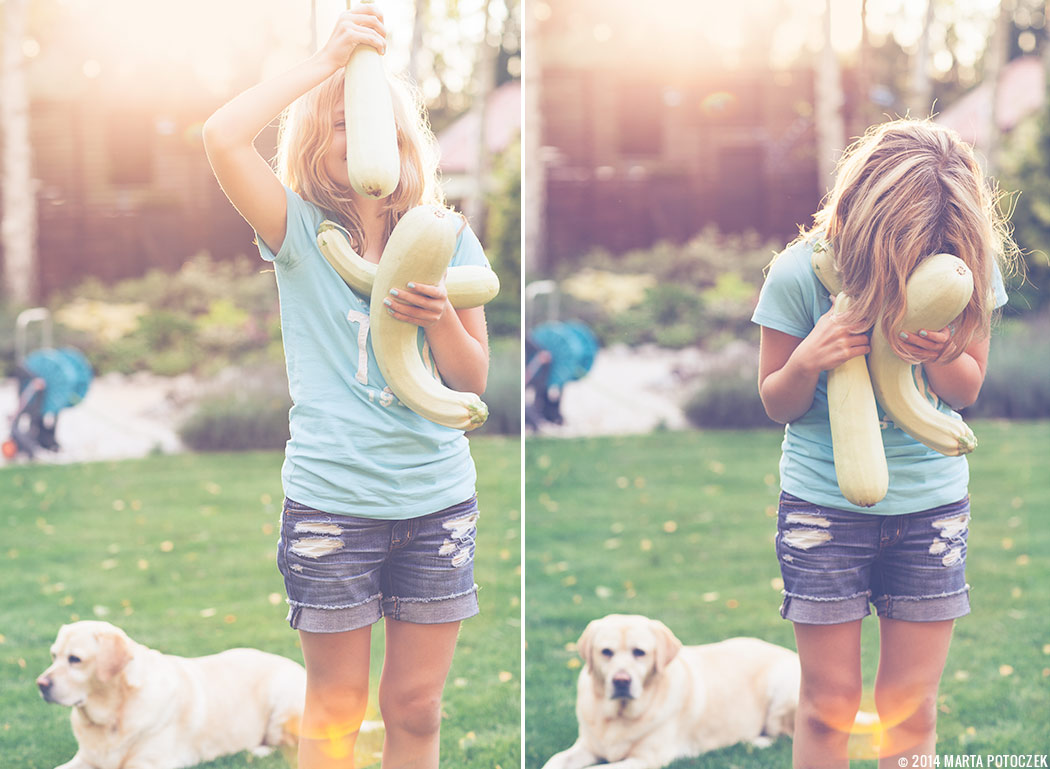 RECIPE – LECHO
2 onions
3 red peppers
1 kg pasta heirloom tomatoes
2 zucchinis
3T tomato paste
1/2 cup tomato passata
2 T honey
2 cloves garlic
3 T olive oil
tablespoon each thyme, rosemary and oregano(fresh or dry)
1 T sweet paprika
salt, pepper
chorizo or other garlic or pepper sausage
Most of the recipe is chopping 😉 First get a kettle of boiling water. Cut a cross on each tomato end and put them in a bowl. Cover with boiling water and let rest for 2-3 minutes. Drain. Cover tomatoes with icy water for a minute or two until their skin starts to come of. Skin them, then chop them. With a mandolin slice your onions. Remove seeds and insides of peppers and slice them thinly. Slice zucchinis to half moons. Heat olive oil in a deep pan. Fry the onions on low heat until translucent. Add peppers and fry for additional 4-5 minutes. Add zucchinis and tomatoes.Add salt- I add one teaspoon now and at the end off cooking check if the dish needs any more. Add tomato paste, herbs, paprika, honey, smashed garlic and passata. Cook on low heat for 45 minutes, stirring from time to time. In the meantime slice your sausage and try it on non stick pan without any oil, they are fat enough on their own and will release it during frying. Fry until nicely browned. Add to your lecho. Taste the dish and add some salt and pepper if needed. I like to serve this dish with grilled bread.