Two weeks ago I took last tomatoes of their vines. They were still green and unripe. I put them in a dry, dark place and let them ripen. I decided to use them today. I love roasting tomatoes. I add whole heads of garlic, drizzle them generously with olive oil and roast them with herbs and salt. I can have them just like that with a warm piece of bread or turn them into a soup. I added some peppers today and made a spicy one.
Garden still looks amazing, reds and yellows are the most dramatic at this time of the year. I wanted to make us a tiny picnic today. Miss Java was very eager to join. Yes, you see it right, I got into the Christmas spirit a bit. I admit it I love all those red/striped/moose clothes. It's like a disease.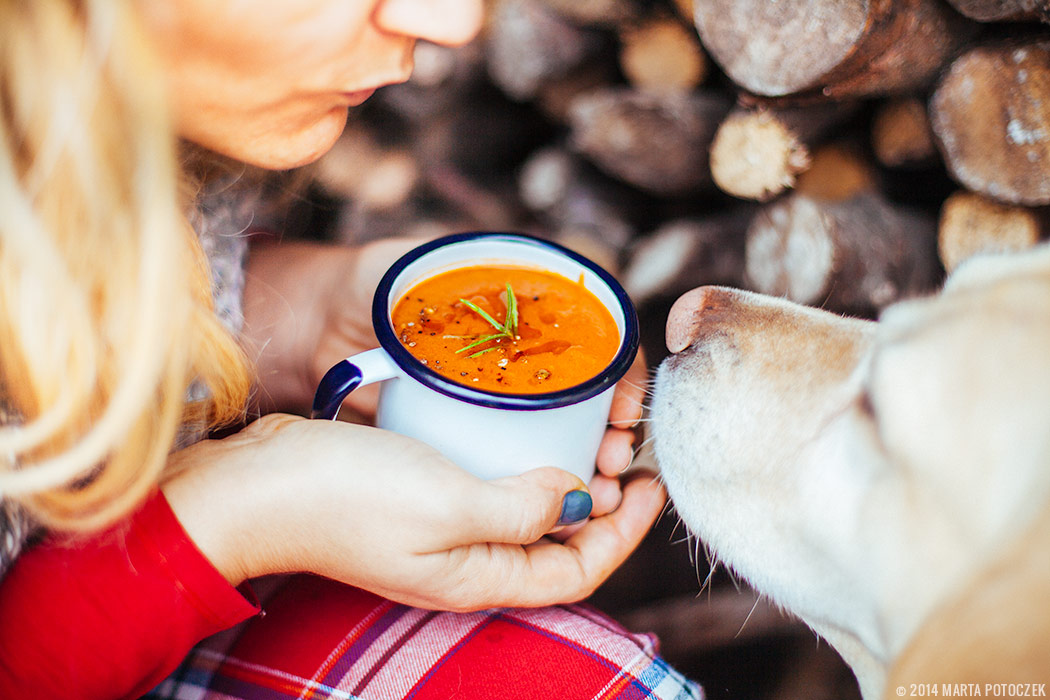 RECIPE – SPICY ROASTED TOMATO AND PEPPER SOUP
1 kg mixed heirloom tomatoes
2 cups vegetable stock
2 red peppers
1 jalapenio
1 t chilli flakes(optional)
1 large head of garlic(I used two small ones)
1 T seasame oil
1 T salt
mixed herbs(I used rosemary, thyme and sage)
1T balsamic vinegar
olive oil
In a roasting tin or tray put all your tomatoes, deseeded and cut peppers, heads of garlic(with tops cut off). Sprinkle with herbs, salt, pepper and drizzle generously with olive oil. Roast in 180C for 40 minutes or until tender. Put tomatoes and peppers in a pot, squeeze the insides of the garlic in, crush herbs in(take all woody parts out and blend with a hand held mixer. Add stock, balsamic vinegar. Season to taste if needed. I used jalapenio with seeds and added 1 t chilli flakes and the soup was really hot. So beware. Serve with a drizzle of sesame oil and fresh rosemary.