Today is Poland's Independence Day. It's a day free from work and we had the most amazing weather ever(in terms of November-sunny and 15 degrees C). We celebrated with a two hour walk in the forrest and had a nice festive dinner with pumpkin soup and coq au vin. I love cooking classics when I have more time. I just bought beautiful organic chicken a few days ago and I had great plans for the fella. I marinated the meat in wine, spices and onion and garlic for 24 hours and then made this dish. So yummy and rich. I served it with mashed potatoes. I made them with buttermilk this time.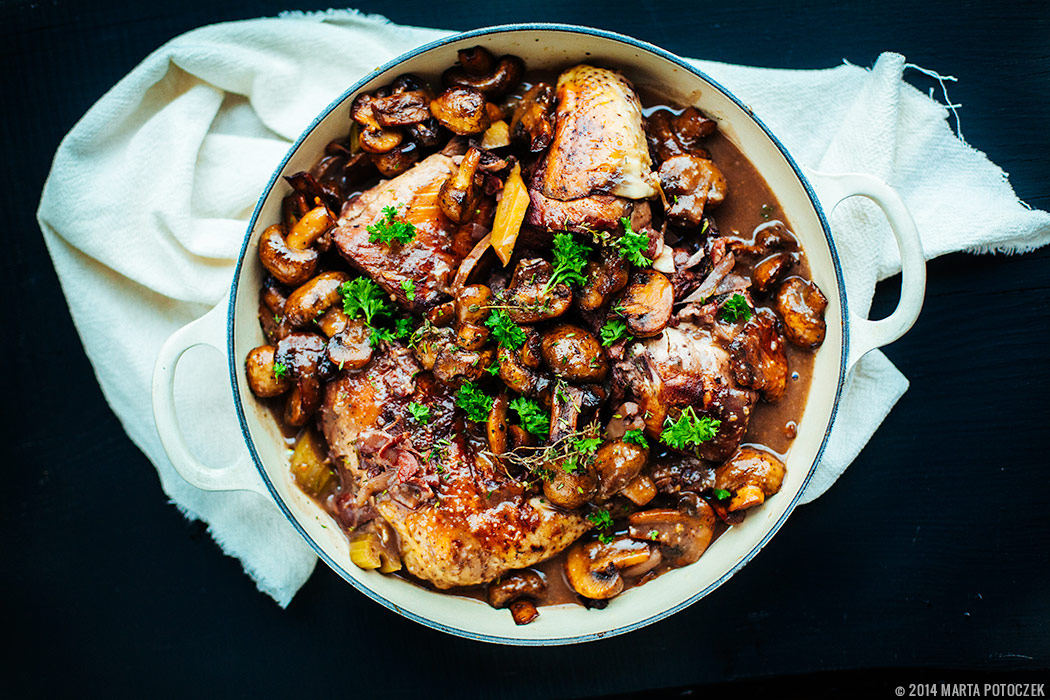 RECIPE – COQ AU VIN
one large organic chicken
1 bottle of red wine(I used Bordeaux)
1 yellow onion
1 head of garlic
3 carrots(I used mix of yellow and purple)
2 sticks celery
100g bacon
1 cup chicken stock
bunch of fresh thyme
few dry mushrooms- I used Polish forrest mushrooms
250 g porcini mushrooms
salt, pepper
olive oil, butter for frying
2 T white flour
Cut the chicken into pieces- wings, breast, legs etc. Sprinkle them generously with salt and pepper. Chop the onion and crush the garlic. In a large bowl add chicken, onion, garlic and pour the whole bottle of wine over them. Marinade for a day in the fridge. Heat the olive oil in a large Dutch oven. Add the bacon and cook over medium heat for 8 to 10 minutes, until lightly browned. Remove the bacon to a plate with a slotted spoon.
Pat the chicken dry, reserve the wine with onion and garlic. Brown the chicken on both sides in olive oil with a knob of butter.Put in a dutch oven. Add carrots, celery, dry mushrooms and bacon. Pour stock and reserved wine. Cook for about 1 hour in 200C/392F.
After that time, take the chicken out, keep in a warm place. On another pan fry porcini mushrooms in butter for about 15 minutes. Add salt and pepper at the end of cooking. In a meantime reduce sauce from the chicken for 10 minutes. In another pan add 2 T of butter and 2 T of flour. Fry for a minute. Add few tablespoons of the sauce, mix, add another few tablespoons. Add to the pan with the sauce and stir to combine and thicken. Add chicken back in. Cook for a few minutes. Add mushrooms. Serve with mashed potatoes.