September is the best month for canning- I go through kilograms of tomatoes, apples, peppers, plums and blackberries and raspberries. There's nothing better in the middle of winter than opening a jar of delicious jams or passata, all prepared by me from organic produce. This time I was making ketchup(recipe will be available soon, because I am really happy with it) and had some leftover roasted peppers and tomatoes so I decided to make this spread. It's a huge hit in the house so I'm rushing with a recipe.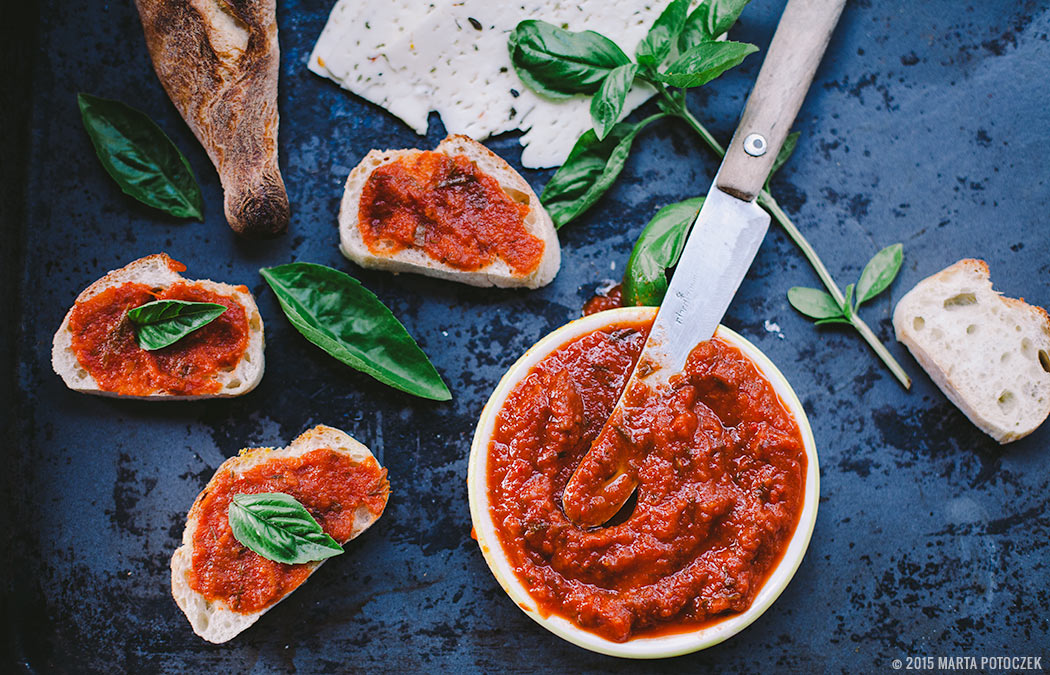 RECIPE – SPICY PEPPER SPREAD
1 kg cherry tomatoes
6 sweet red peppers
4 spicy serrano peppers
2 onions
2 carrots
1 head of garlic
1 small celeriac
2 parsleys(roots)
bunch of each greens- parsley and fennel
salt, pepper, olive oil
Arrange tomatoes, garlic and peppers on the baking tray and bake for 40 minutes in 200C. Let cool. In a meantime finely chop the onion and grate carrots, celeriac and parsley root. In a skillet fry the onion of 7 minutes, add grated veggies, add a bit of water and let cook for 15 minutes. In a meantime get garlic out of the skin and add to cooking veggies. Get tomatoes and peppers out of their skin and take all the seeds and membranes out of the peppers. Chop the flesh and add to cooking veggies. Blend with a blender. Chop fresh parsley and fennel add to the spread. Now season with salt and pepper. Check if it needs to be more hot- if so add additional dry chilli. You can eat it warm or cold. I laddle the hot spread into hot sterilised jars and put into the oven in 100C for an hour and let cool down in the oven until next day. They store well for a year.