How are you after Easter? I must say am in need of diet food. Like really really badly. I will not mention passionfruit curd served on meringue… and some more.
Back on the right track from today. As always I try to eat less carbs,less cheese, no sugar, more veggies and drink a lot more water, definitely less wine. And fuel with good protein. I love love love shrimps and always keep a bag of frozen ones in the freezer. As I rush home hungry and in a need of something really quick I take those out of the freezer, run some hot water over them and let them drain for a few minutes. I chop some veggies in that time and put some rice to boil in the rice cooker. In 15-20 minutes dinner is ready and all family is happy.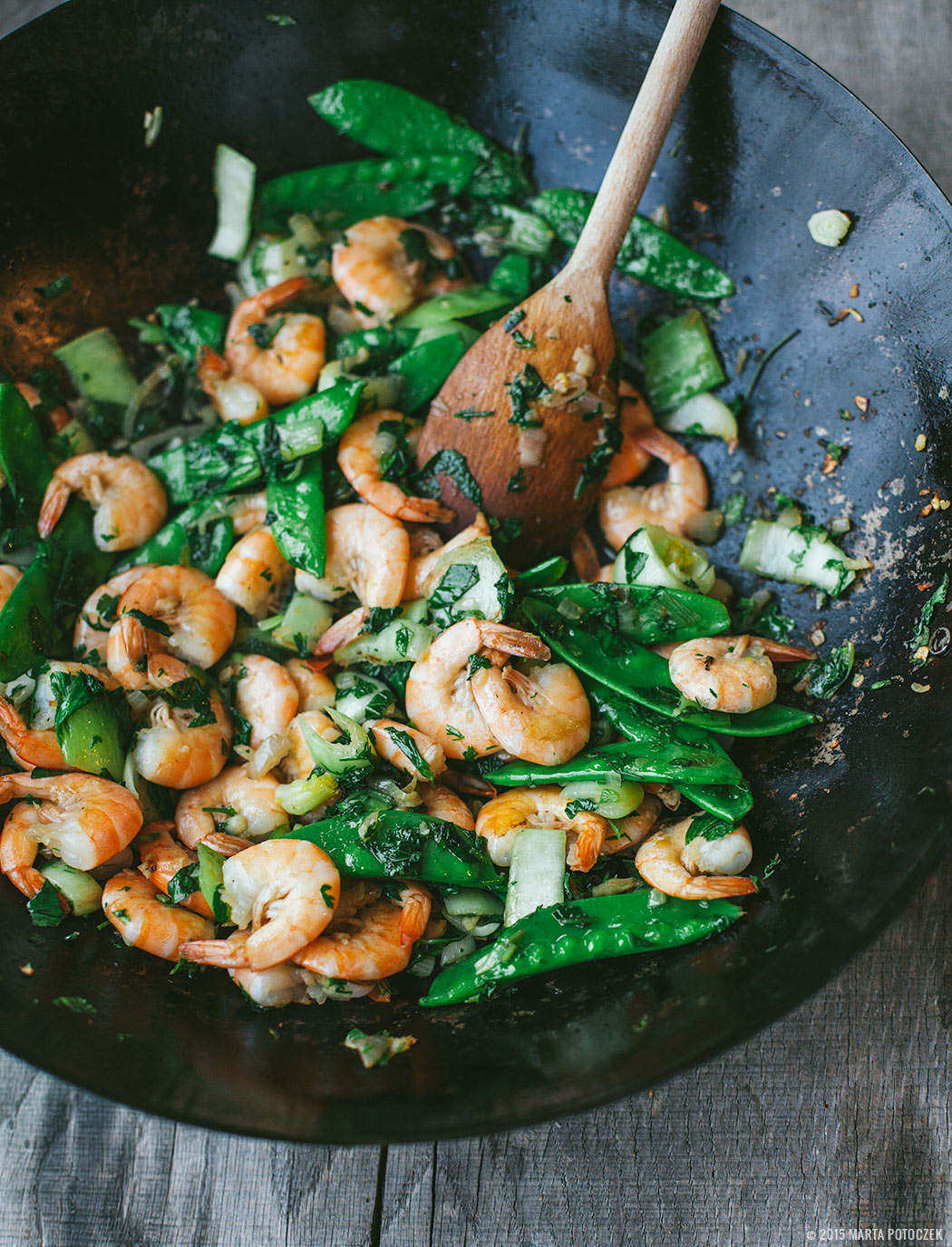 RECIPE- SHRIMP AND MANGETOUT STIR FRY
400 g of shrimp (grey ones tend to be more crisp when stir fried)
bunch of spring onions, chopped
2 bok chois, roughly cut
100 g mangetout
salt
pepper
peanut oil
2 garlic cloves minced
chilli flakes
3 T each minced coriander(cilantro), mint and Thai basil(optional)
Chop sping onion, bok choi and herbs. Mince garlic. Heat wok over medium heat, add 2 tablespoons oil and fry spring onion for 2 minutes, until translucent. Add garlic and after 30 seconds and shrimps. Stir as you go. After a minute add mangetout and bok choi. Add salt, pepper and chilli flakes(as much as hot you like it- I add one teaspoon). Sprinkle herbs over, stir again. And there you go you're done. You can serve it with a splash of lime juice. Our family loves it with jasmine rice. Simple and super quick.