My daughter eats her meals like she learned it from the book about healthy lifestyle- slowly, small portions, she gets hungry every 2-3 hours. If she ate only healthy stuff I'd be in heaven. Life is not that great to me 😉 I envy that thing about her, because I always eat very fast, have a tendency to eat more than I should and to eat well I have to remind myself about things that seem so natural to her. But to me as a cook and home organiser it's not easy to have a hungry teenager rushing to kitchen every 2-3 hours to have a snack. If I'm not ready she'll go for something sweet(and processed sweets get her attention pretty quickly) and she's pretty picky about her food too. So I try to make some meals in advance and to come up with some sweet dishes that will curb her teenage sweet tooth.
Today one of those dishes- oatmeal cake. It's white flour content is pretty low, as is sugar. Let's be clear though- it is sweet and it is dessert. But no harmful additives and it doesn't make your insulin lever skyrocket after you had it. Good enough for me.
The original recipe comes from Nordic Bakery Cookbook
but I tweaked it a bit and added another layer to it. You can substitute milk with almond or coconut milk if you're lactose intolerant. Don't go for whole wheat flour as I tried once- it gets too heavy.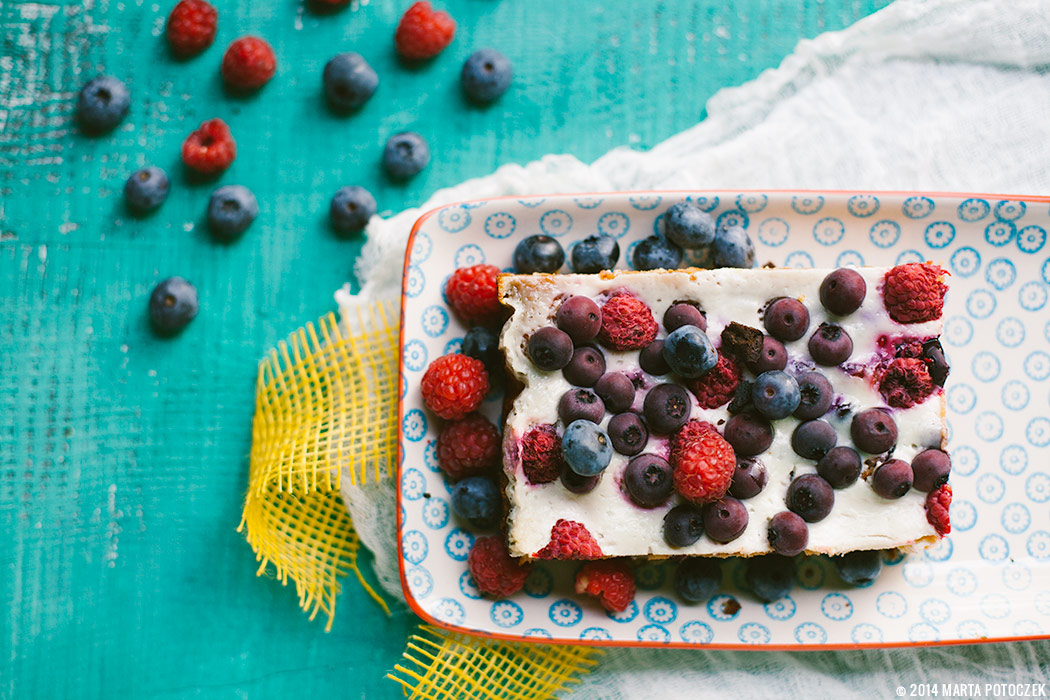 RECIPE – OATMEAL CAKE WITH BERRIES
100 g oats
300 ml hot milk
100g unsalted butter
60g caster sugar
50ml runny honey
1T vanilla extract
1 egg lightly beaten
1 tbs baking powder
120 g plain white flour
150g blueberries
150 g rasberries
6 T caster sugar
340 ml thick greek yogurt
Preheat the oven to 180 C. Put the oats and hot milk in a bowl and let them absorb the milk for a few minutes. In a mixer cream 60g caster sugar with cubed butter until pale and fluffy, stir honey and vanilla extract. Add the egg. Fold mix of flour and baking powder into the mixture. Add the oats. Line your loaf tin with baking paper. Pour the mixture inn. Sprinkle berries on top. Bake for 50 minutes. Meanwhile mix yogurt with 6 T sugar. After 50 minutes pour it on top of the cake and bake for additional 10 minutes. Let cool before eating.