I forgot to share a recipe for the buns I made for Gaba's last day of grammar school. I only have three photos so please excuse total lack of styling, as I was in a hurry. As the strawberry and rhubarb season is coming to an end it's great idea to have them around this week. They are easy to make, and are just so good to eat warm. Of course later in a year you can switch to other fruit like blueberries and plums.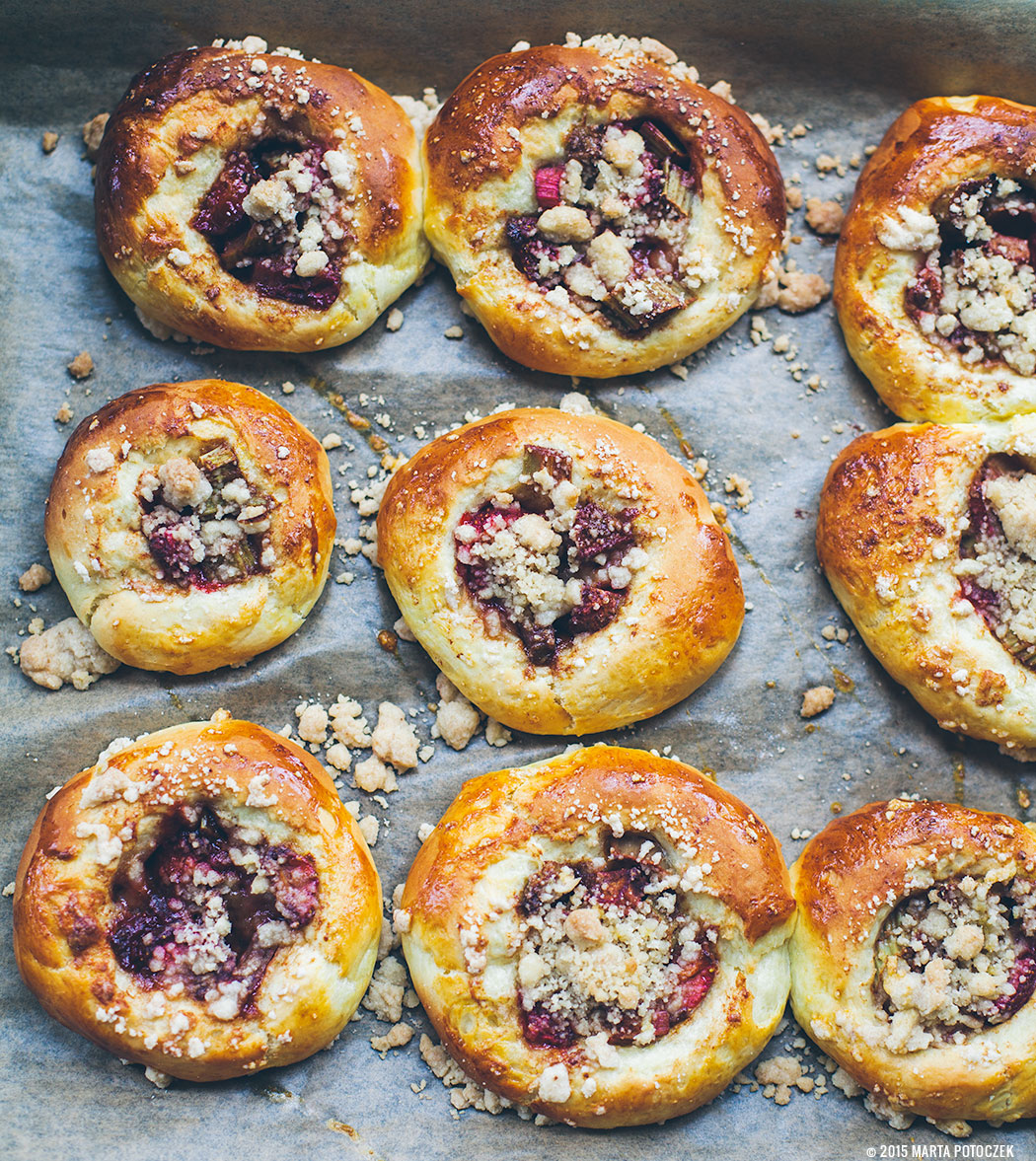 RECIPE – STRAWBERRY AND RHUBARB BUNS WITH CRUMBLE
250 ml lukewarm milk
100 g caster sugar
25 grams fresh yeast/or 7g dry yeast
1 egg
100 g unsalted butter
500 plain flour
FILLING
half cup strawberries
2 sticks rhubarb
100g brown sugar
1 tablespoon cinnamon
CRUMBLE
30 g butter, softened
40 g plain flour
20 g brown sugar
GLAZE
1 egg, lightly beaten

To make the dough sprinkle the yeast into warm milk mixed with 100 g of sugar.Mix until dissolved. Leave for a few minutes. Add egg, melted butter and half the flour in a food processor or mixer with a dough hook. With the motor running, gradually add the flour until it is all incorporated and the dough has come together. Transfer the dough to a bowl, cover with a clean tea towel and leave to prove in a warm place for 1 hour, or until it has doubled in size.

After an hour, punch down the dough and transfer to a lightly floured surface. Divide into four and then into five, so you end up with 20 pieces.Roll each into a ball and arrange on a baking tray lined with baking paper. Press the middle with your finger making a hole. Leave to prove in a warm place for half an hour.

Preheat the oven to 200C.

For the filling, mix chopped strawberries, rhubarb with cinnamon and sugar. For the crumble mix butter, sugar and flour with your fingers until it resembles yes you guessed it- crumble.

Put fruit mixture in the holes o the buns, brush buns with beaten egg and sprinkle crumble on top.

Bake the buns in the preheated oven for 20-25 minutes, or until golden brown.