During our trips I like to visit hip breakfast places and see what they offer. It's cool to know what's the latest hype in the breakfast/brunch world. Sometimes you can find something you didn't think of and fall in love. That was the case with savoury waffles. Many places serve them sweet with eggs or even worse salomon- which I personally hate and will always have a problem with accepting. When they omitted sugar though- I was smitten. Why didn't I think of this combo! I started experimenting. First thing was buying a new waffle machine, mine was just super old and didn't have enough power for the super crunchy on the outside, fluffy on the inside waffles I adore.
I got some chard that survived winter and is growing like crazy, so I decided to make some with scallions. And poach some organic eggs. You know the ones I get from a lady who writes the date they were laid with a pencil on the egg. How adorable is that!?
For the waffles recipe I used the best one I know for sweet waffles, just skipped sugar and vanilla extract. It comes from a book called Eggs
by Michel Roux, a wonderful position in my library about anything you can make with eggs, highly recommended!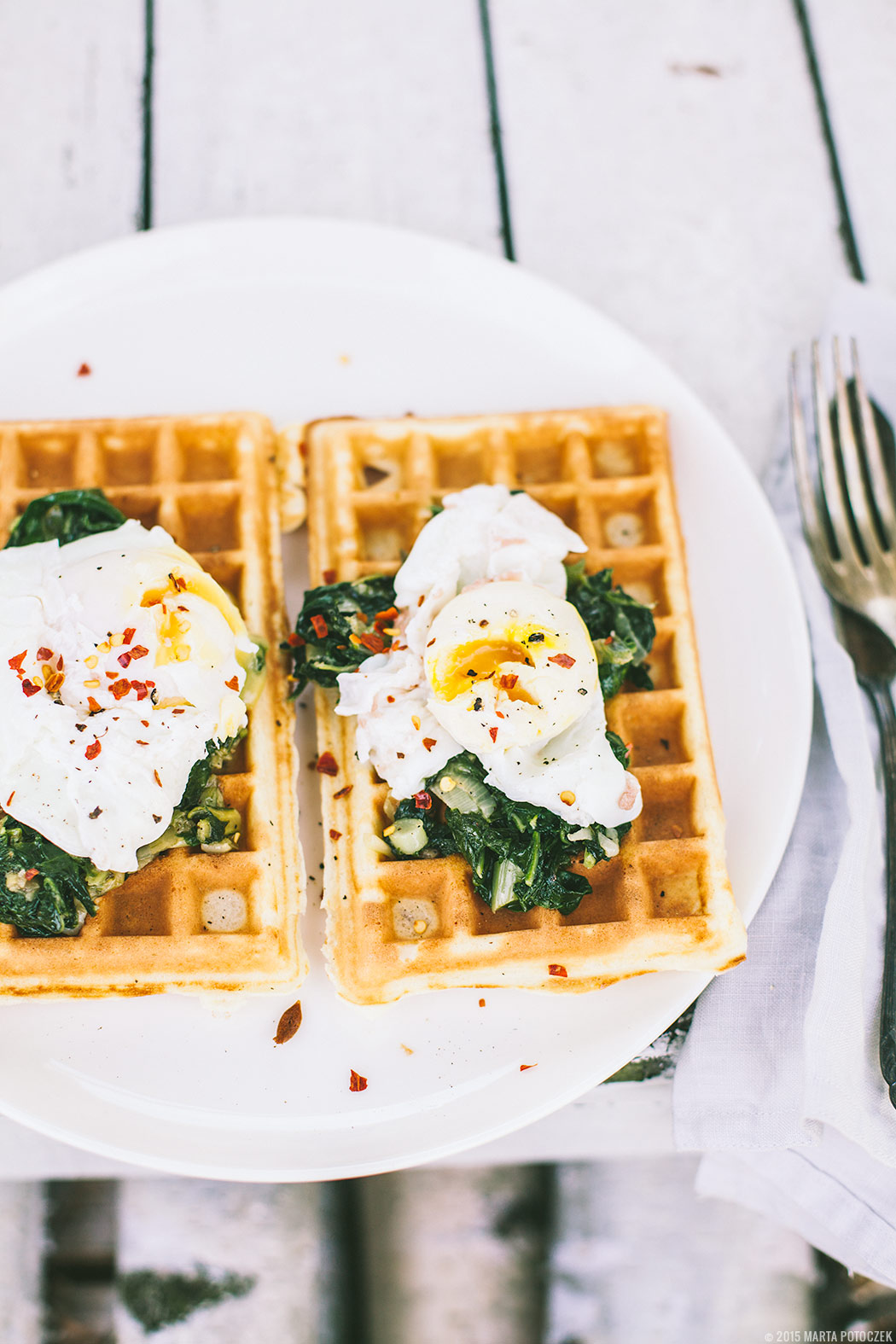 RECIPE – SAVOURY WAFFLES WITH CHARD AND POACHED EGG
160g all purpose flour
A pinch of salt
50g melted butter
2 eggs, seperated
270 ml milk
EGGS for poaching(I usually use 1-2 per person), water and 3 T apple vinegar
3 scalions
300 g chard or spinach
sunflower oil
salt, pepper, chilli flakes
Combine the flour, salt, melted butter and egg yolks and about a third of the milk. Whisk until smooth, add in the remaining milk gradually. Set aside.
Heat a skillet full of water, add 3 T apple vinegar. Put one egg at the time into the bowl and quickly pour it into the water. Cook for 3 minutes. Use slotted spoon to take it out. Use a knife to cut some unwater pieces of the egg white to make the egg look like a nice ball of mozzarella.
In another bowl, whisk together the egg whites until stiff peaks form. Fold the whites into the batter.
Lightly brush the waffle iron with butter, ladle the batter over it and close the lid. Let it cook for 4-5 minutes until the indicator goes off, or the waffles are as golden and crisp as you like.
Cut scallion thinly, roughly tear the chard leaves, chop the stems. Heat oil in a skillet. Fry scallions for three minutes, add some salt, pepper, chilli flakes (if desired), then chard. Cook until wilted.
Serve waffles with some wilted chard and poached egg on top.