As you know I often work from home. As during school year Gaba is at school and Mike is at work I often eat my lunches alone. There is the urge to have it fast and without any dirt in the kitchen, so I often have a banana or two, maybe a handful of nuts and loads of coffee. I don't think that is the perfect way, so I try to make super fast meals that will fill me and will not turn my kitchen into a huge mess. This salad is an perfect example of fast lunch for one.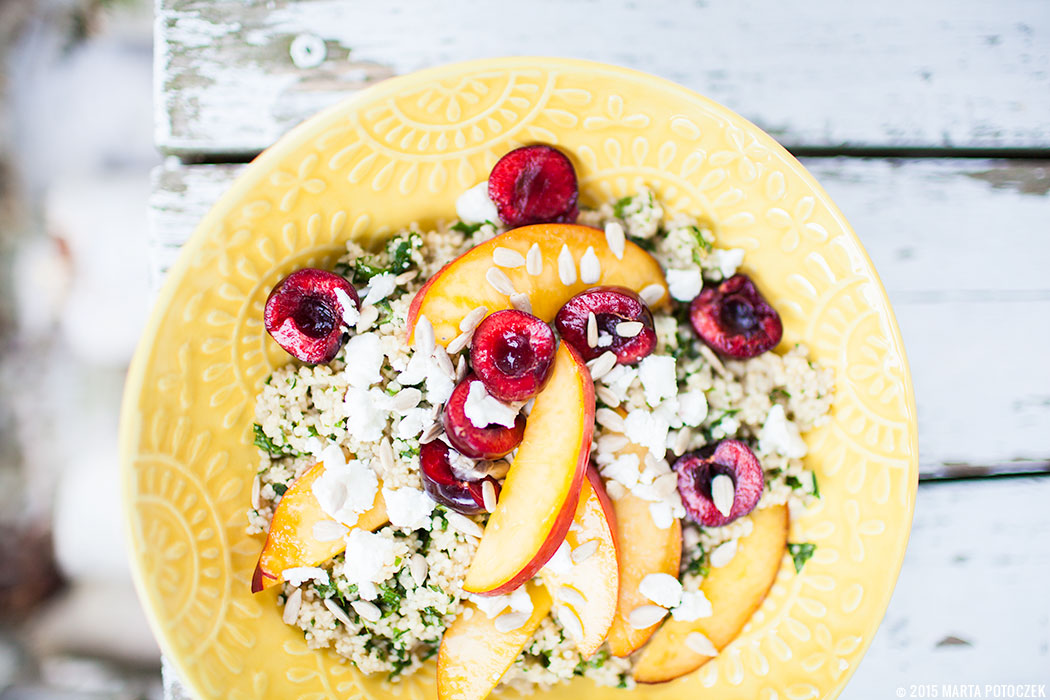 RECIPE – NECTARINE AND CHERRY COUSCOUS SALAD
half cup couscous
1 nectarine
10 cherries
50 g feta
handful of sunflower seeds
1 T each: mint, basil, melissa,lemon balm
juice of one lime
1 T olive oil
salt, pepper
In a bowl pour hot water over couscous, so water level is 1 cm higher than grain level, cover with a plate. Cut nectarine into half moons, pit cherries, cutting in half. When couscous is cool, add lime juice, salt and olive oil. Chop all herbs finely and add as well. On a platter put couscous mixture, put nectarine and cherries on top, sprinkle with feta and sunflower seeds. Enjoy.