Why grow your own? I started with a little pot with a cherry tomato in it and another pot with a few herbs. They were so much more tasty than the ones I knew from the markets. And I knew there was no nasty stuff sprayed on them. So I grew few other pots and then read about raised bed gardening. My garden has clay soil that tends to be very cold and heavy in spring, warms late and isn't easy to cultivate. I tried with one raised bed the first year and got such abundance of leafy greens from it we didn't buy a single lettuce or spinach all summer long. Of course I wanted more. After four years I'm a proud owner of nine raised beds and a tomato tunnel plus I grow in pots since we have a pretty big terrace.
We eat lots of fruit and veg all year long so it's not possible to eat only from the garden, but it's a step forward! Nothing beats lettuce cut down just five minutes before dinner, or a pea eaten few seconds after you take it out of it's pod, a tomato eaten right after being picked, as it was basking in the sun rays moments before. You can feel all of those vitamins and phytonutriens flowing through your body.I grow organically, I used chemicals only twice during those four years on two of my tomato plants. When I talk to the people I buy veg from they tell me what chemicals and how often are usually used…you don't want to know 🙁
Here you can see three of my beds in which I grow: peas, carrots, beets(on the left), oregano, chives and lettuce(on the right), tomatoes, lettuce, coriander, parsley, chives, onions and rhubarb(back bed). Picture taken in the beginning of June this year.
The beds are filled with scraps from the garden(bottom layer), than some few months old compost and the last layer is soil from a bag from the garden centre mixed with one year old compost. I add cow or horse manure when needed(tomatoes, squash, cucumbers).
July pictures of the last pea and first carrot harvest. Pea was the reason I started my veg garden. I remembered the taste of a fresh pea from my grandpa's garden- this sweet taste lasted in my mind for thirty years! It's so sweet just right after it is harvested because the sugars are not yet converted into starch.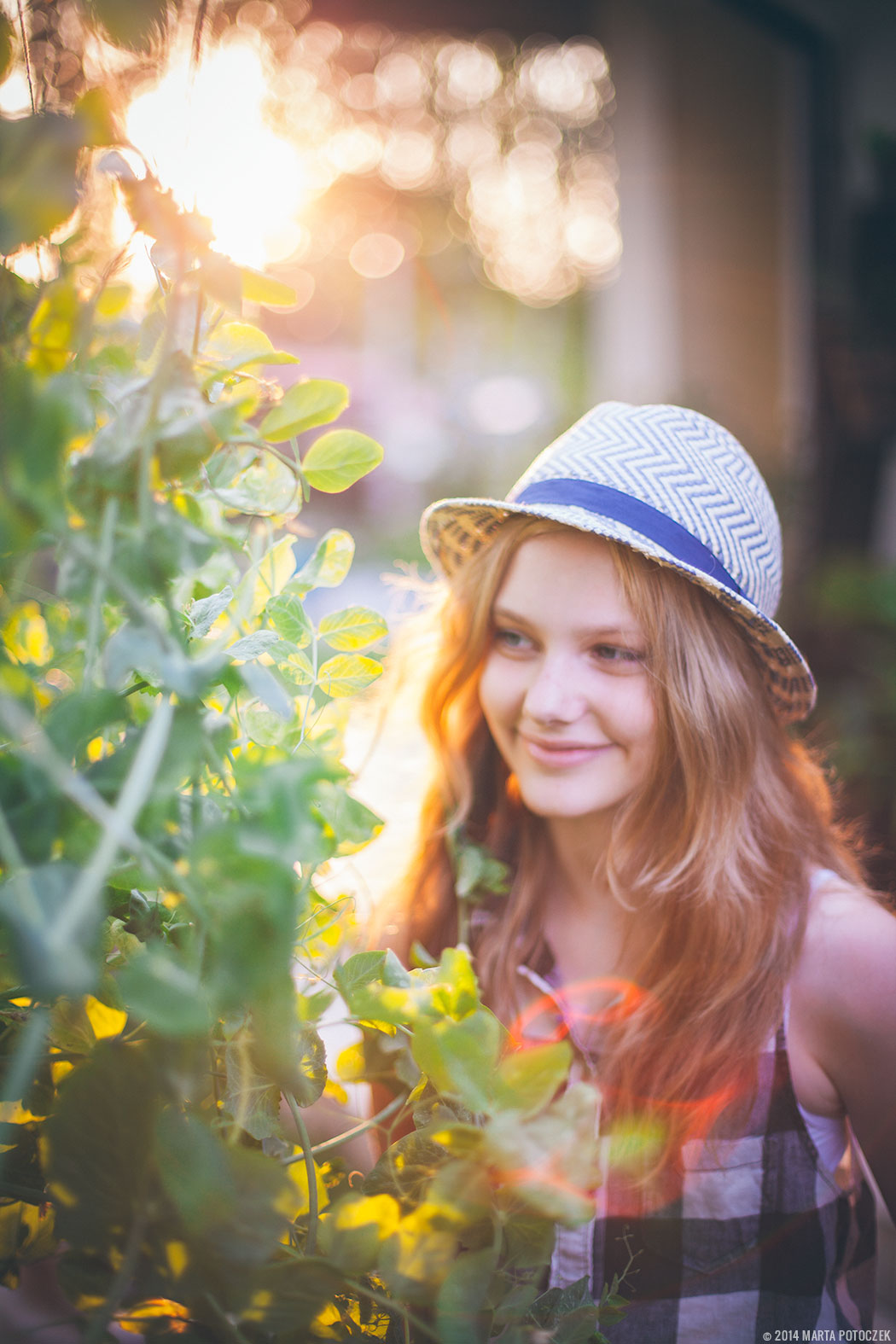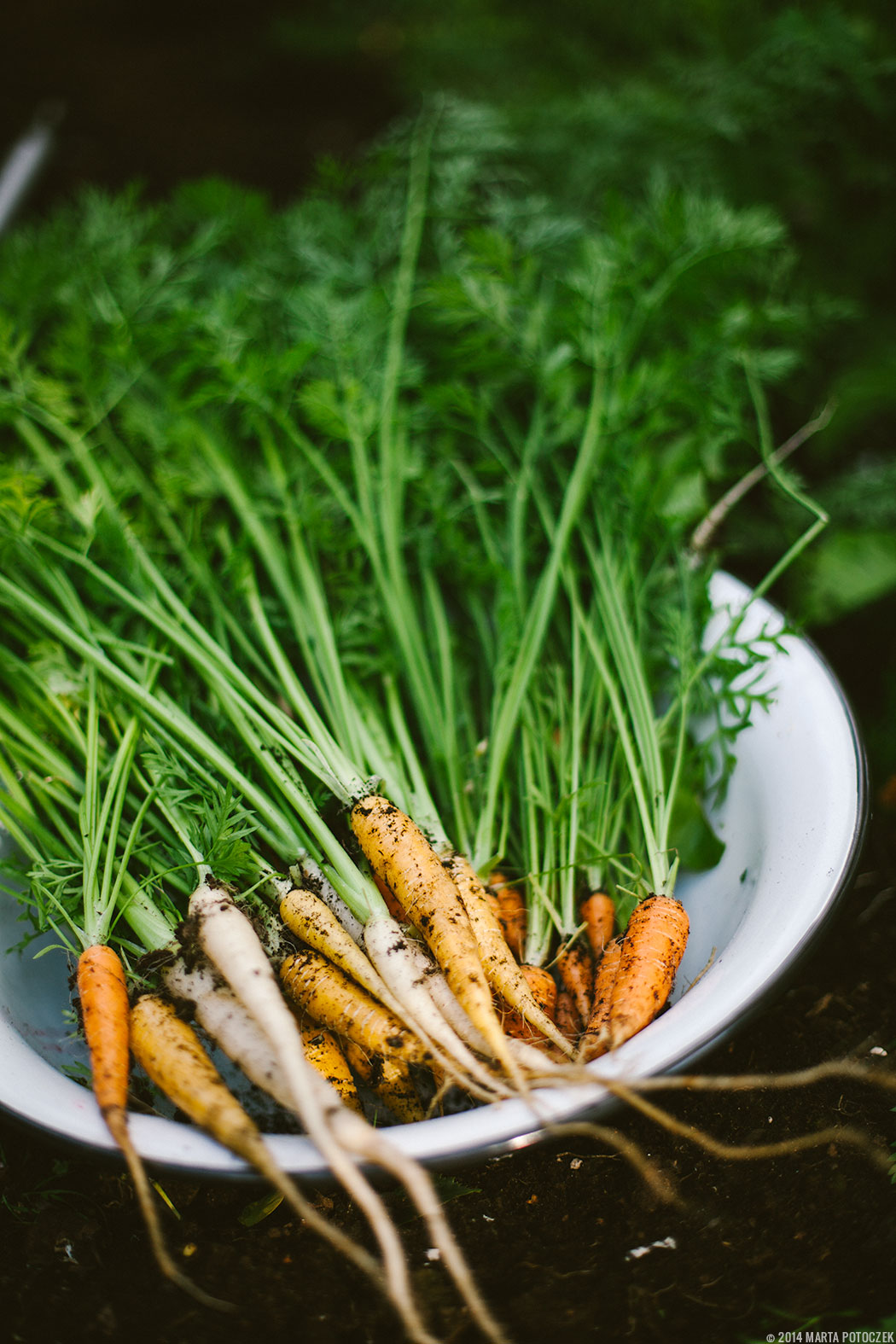 This is another part of the garden next to the chill out zone- I have a tunnel where I grow the first tomatoes, I have greatest harvest here- it's big enough to be home for 30 tomato bushes. I managed to squeeze few hot peppers and salads as well. After the tomatoes are done I'll put some chard, kale and salads for the fall and winter days.
Behind the ornamental grasses you'll find another hidden bed with more tomatoes, chard, lettuce and strawberries.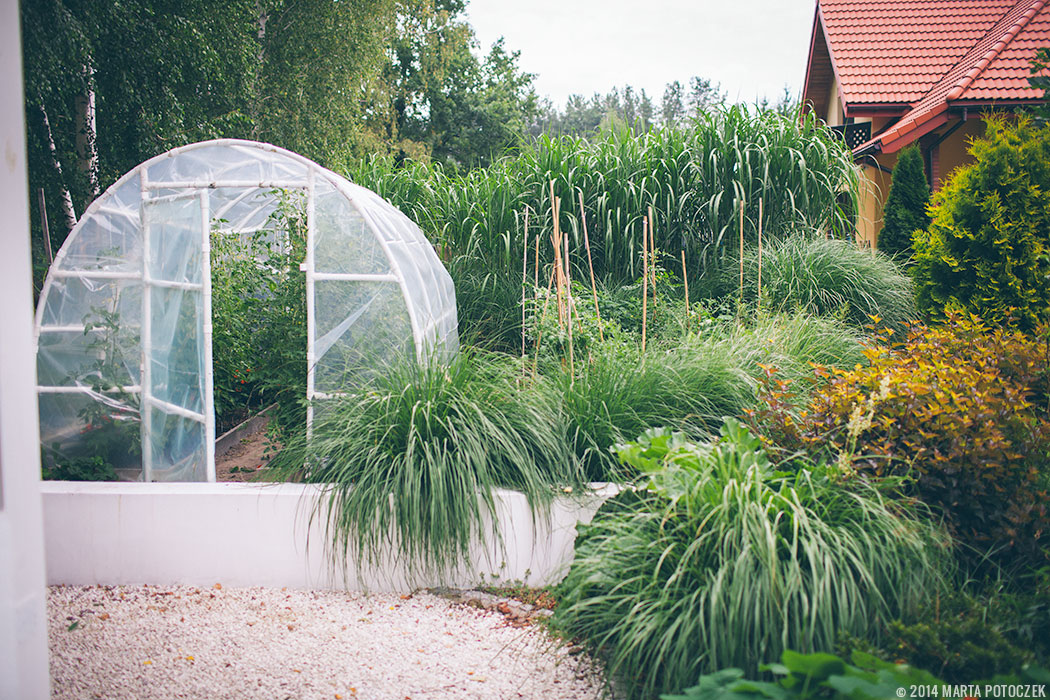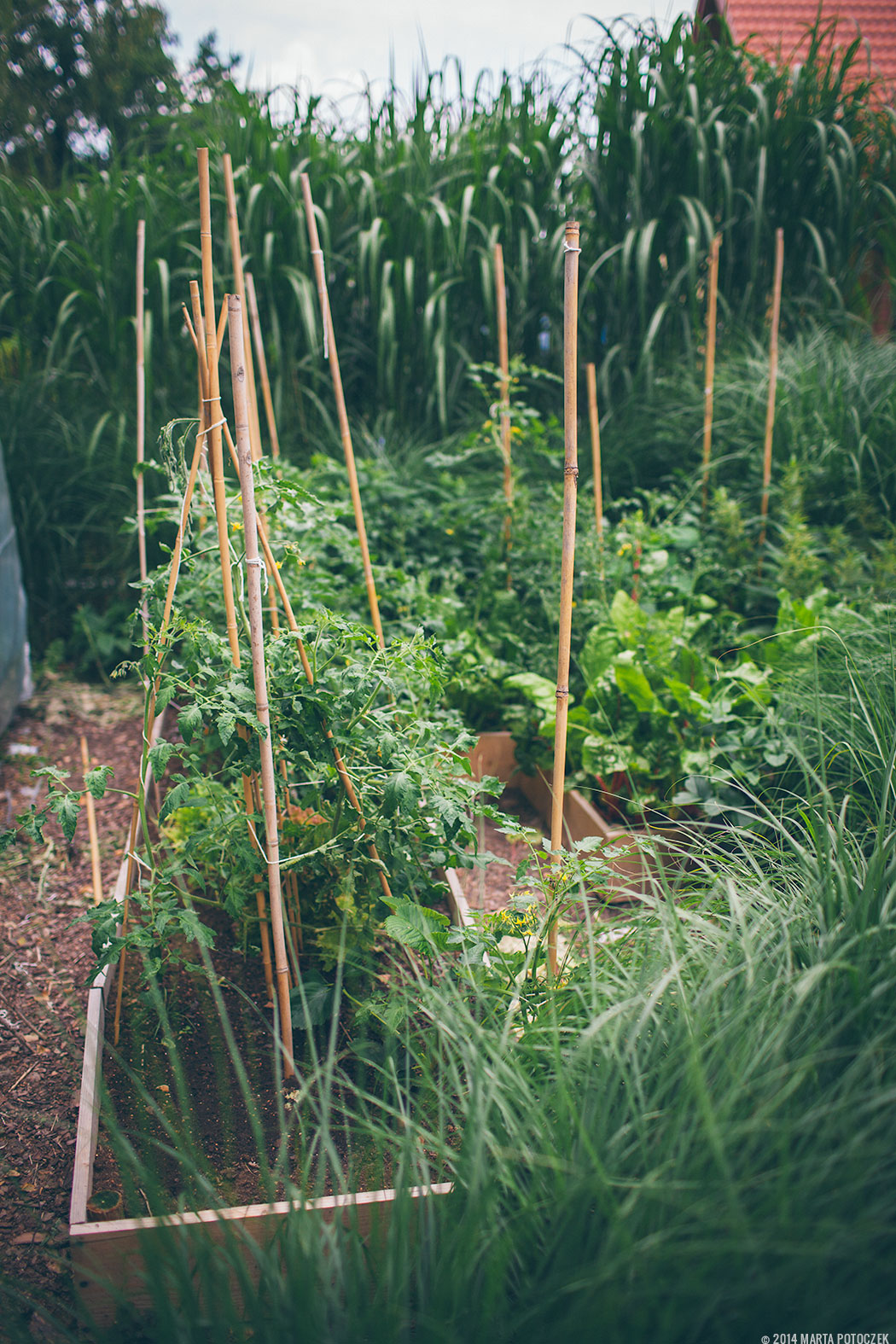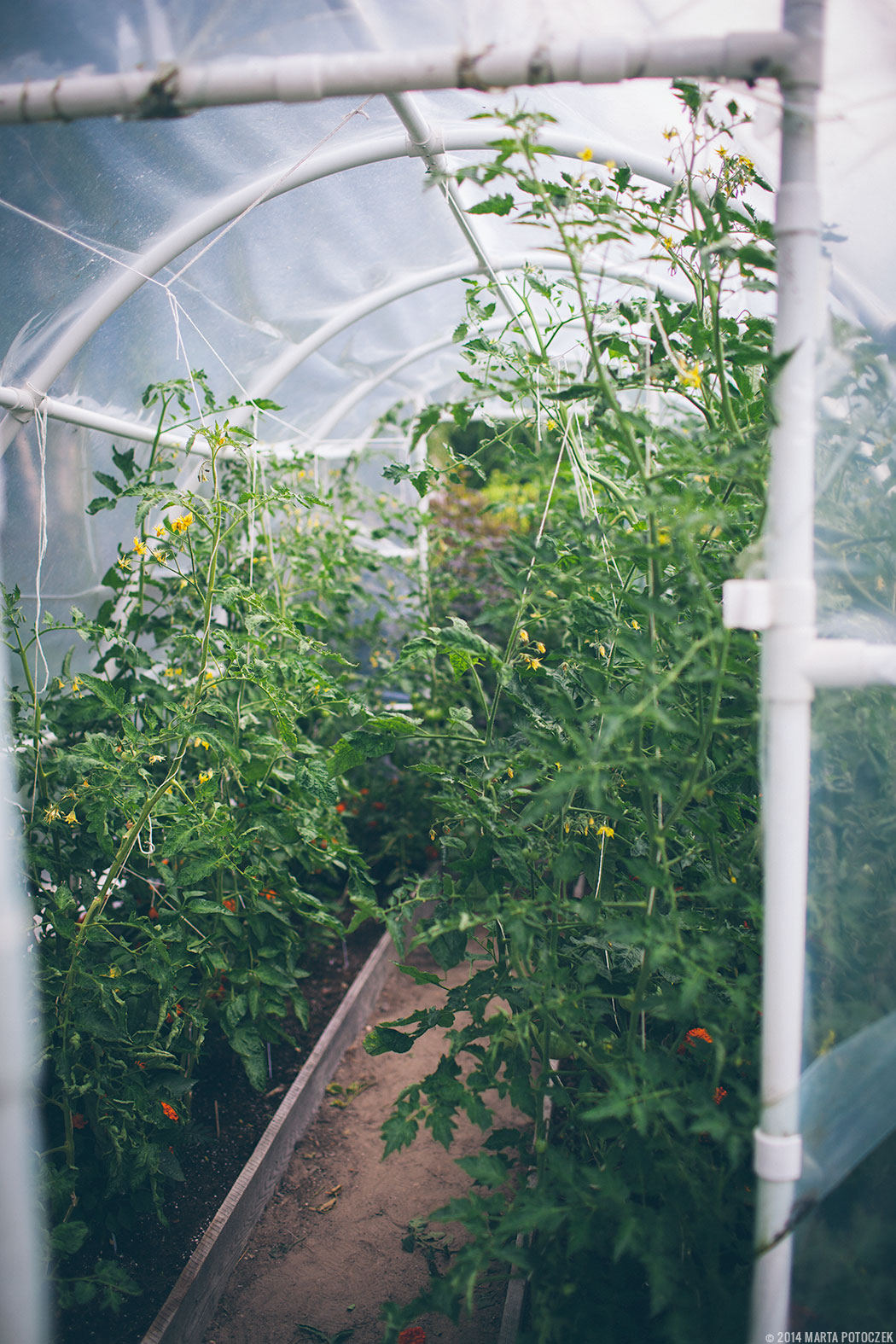 On the left side of the tunnel you'll find next beds. The white one is full of tomatoes, peppers, basil and beans. On the left I grow rhubarb, currant and blackberries. In the back you find winter squash, zucchini and runner beans. We built few trellises this year so they can climb.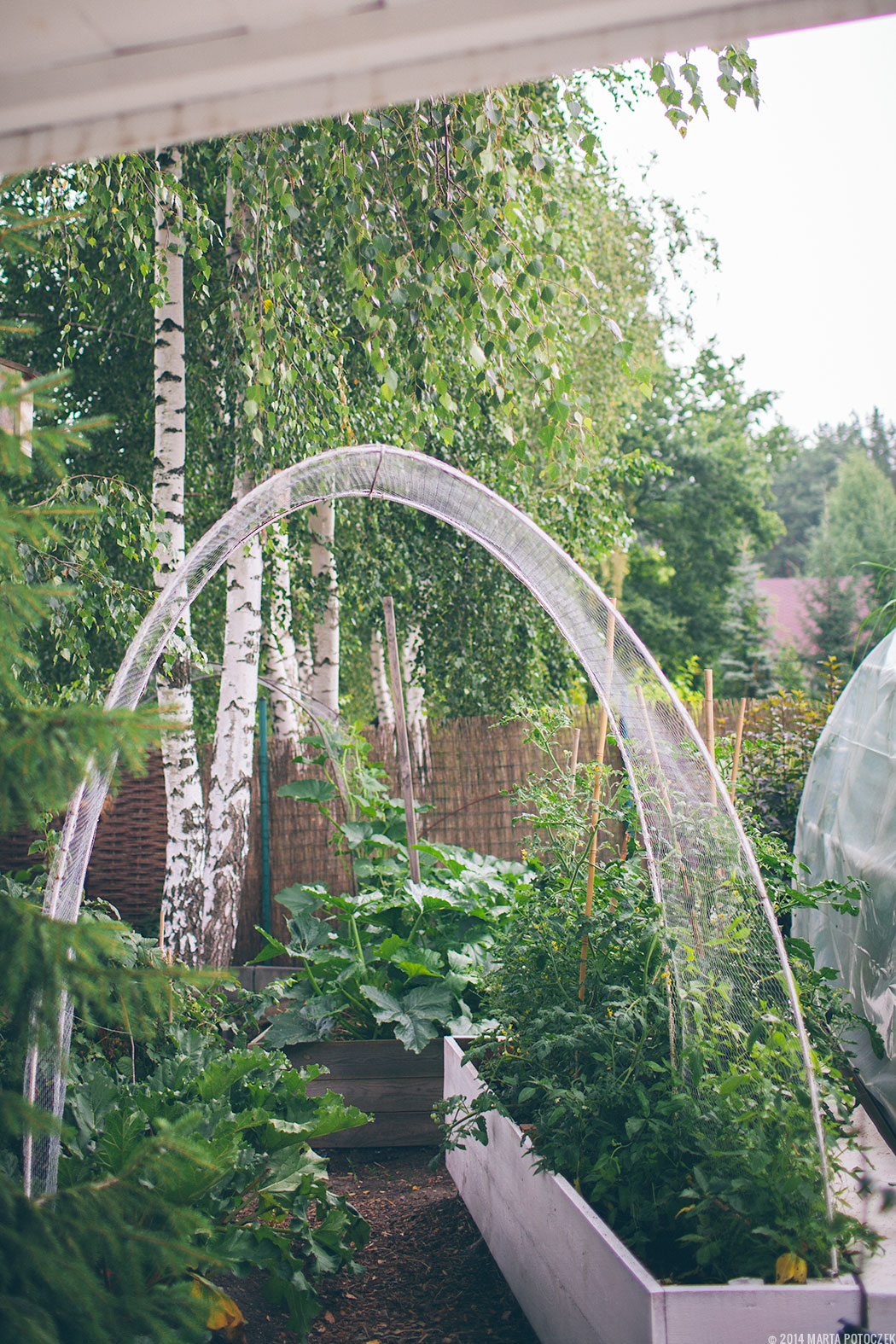 Back on the terrace I grow lots of herbs and veg in pots. I had this cool shelves built this year for my south facing terrace wall. More room for lettuce(never too much!), hot peppers(serrano, jalapenio), shiso, basil and for trays with baby plants.
Below are big brown boxes with herbs: rosemary, thyme, hyzop, sage, peppers and tomatoes again. Also some flowers: marigolds, poppies, calendula- to attract my bees. Yes I have two hives of bees in the garden 🙂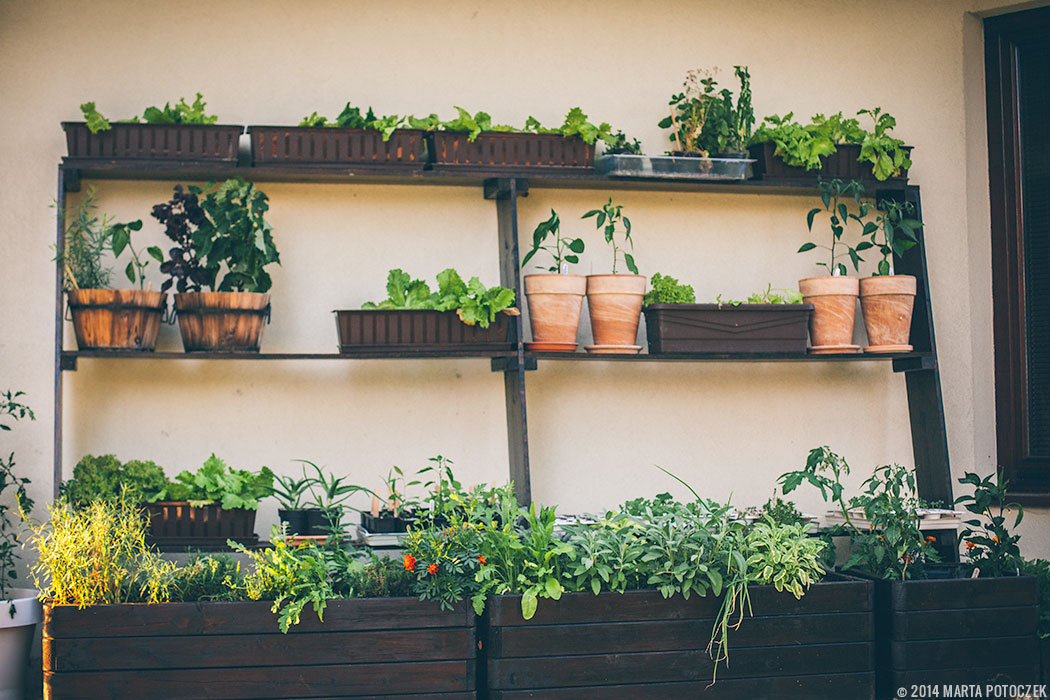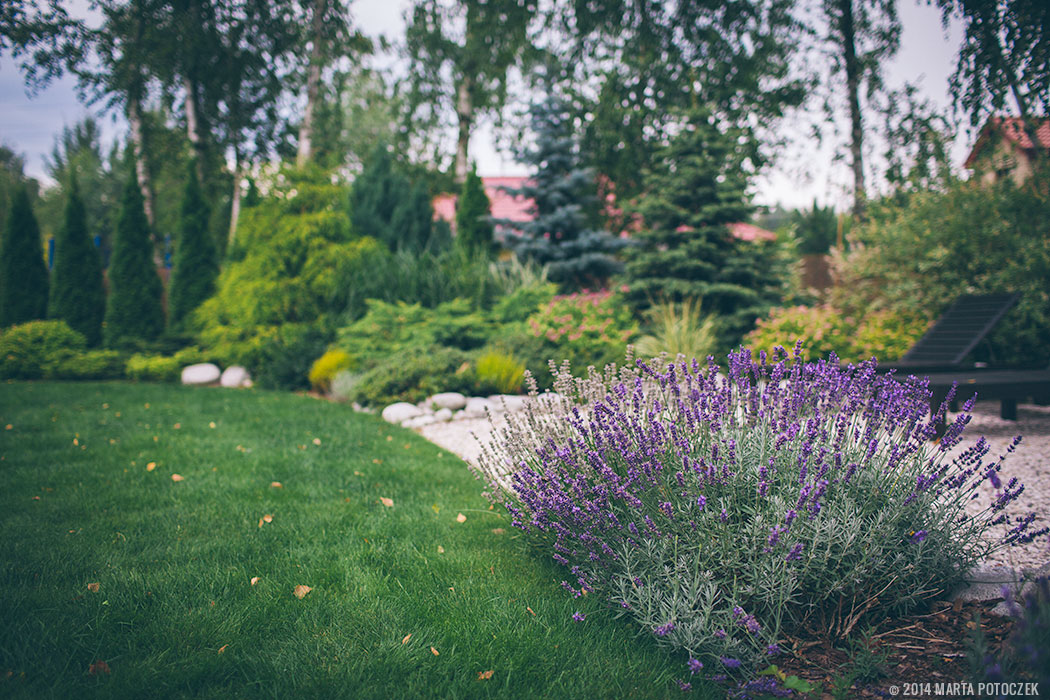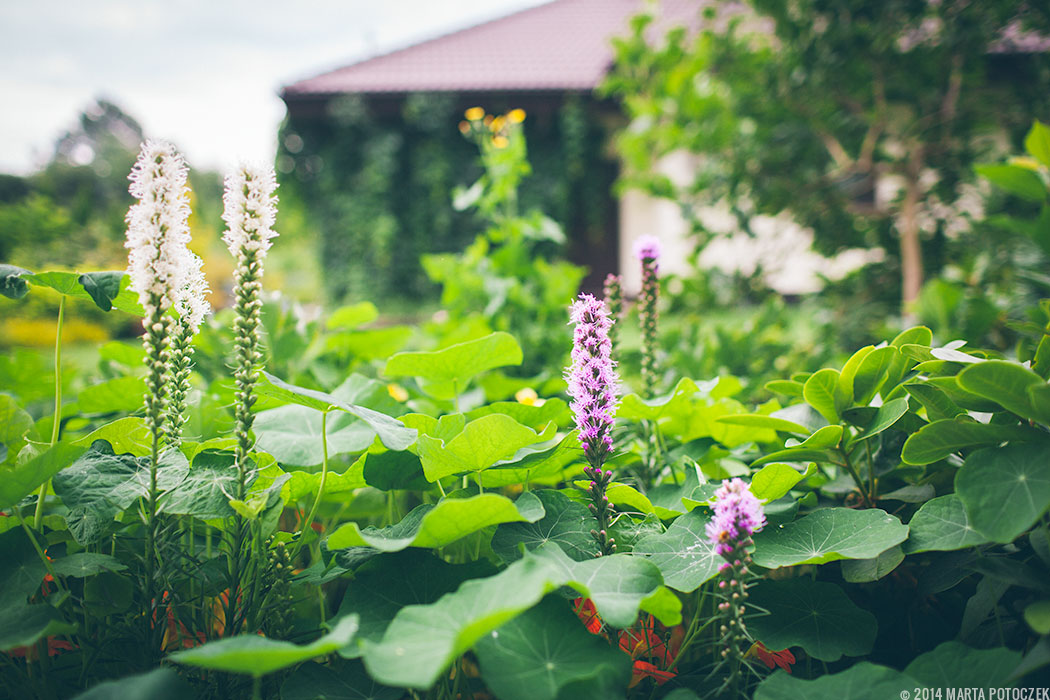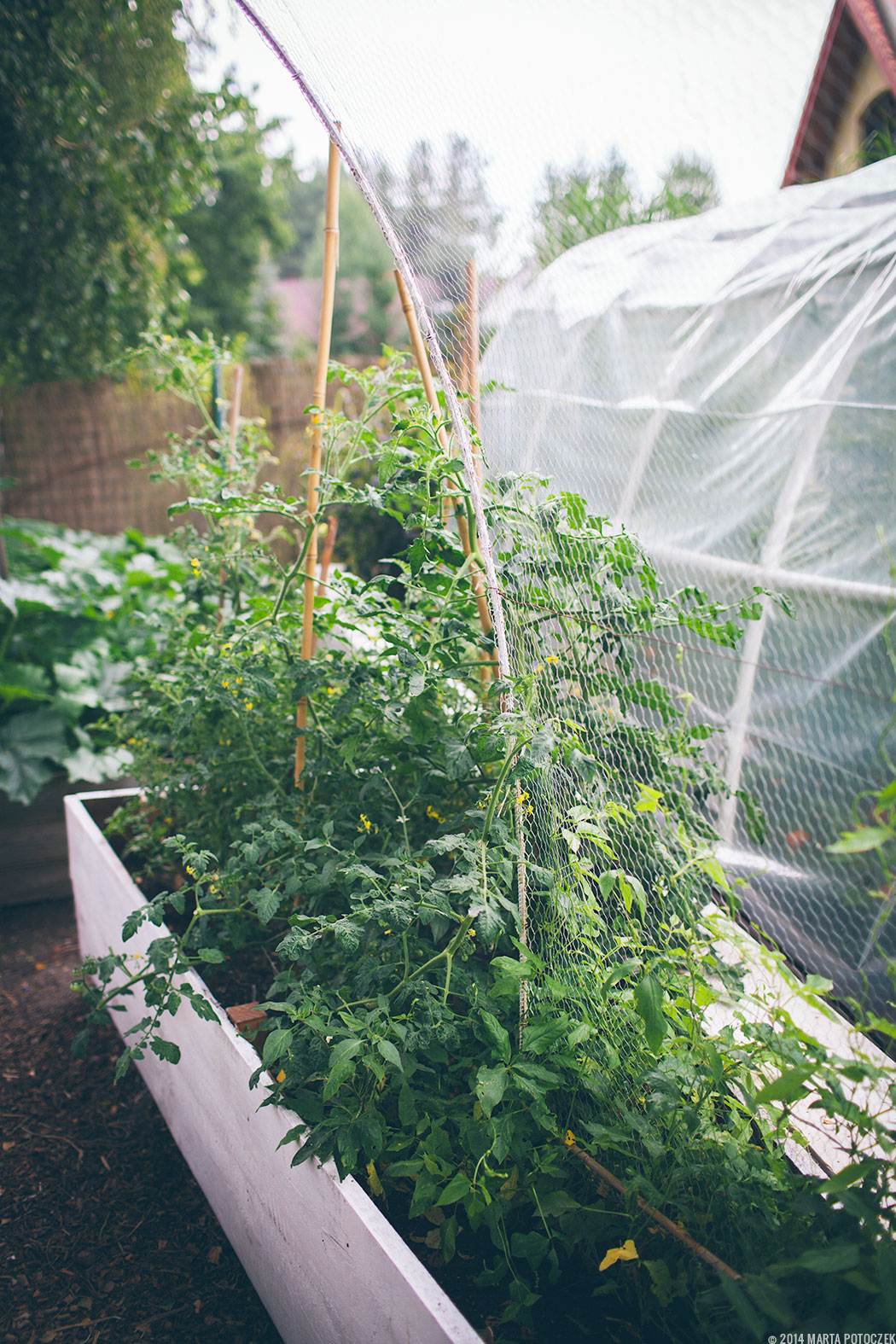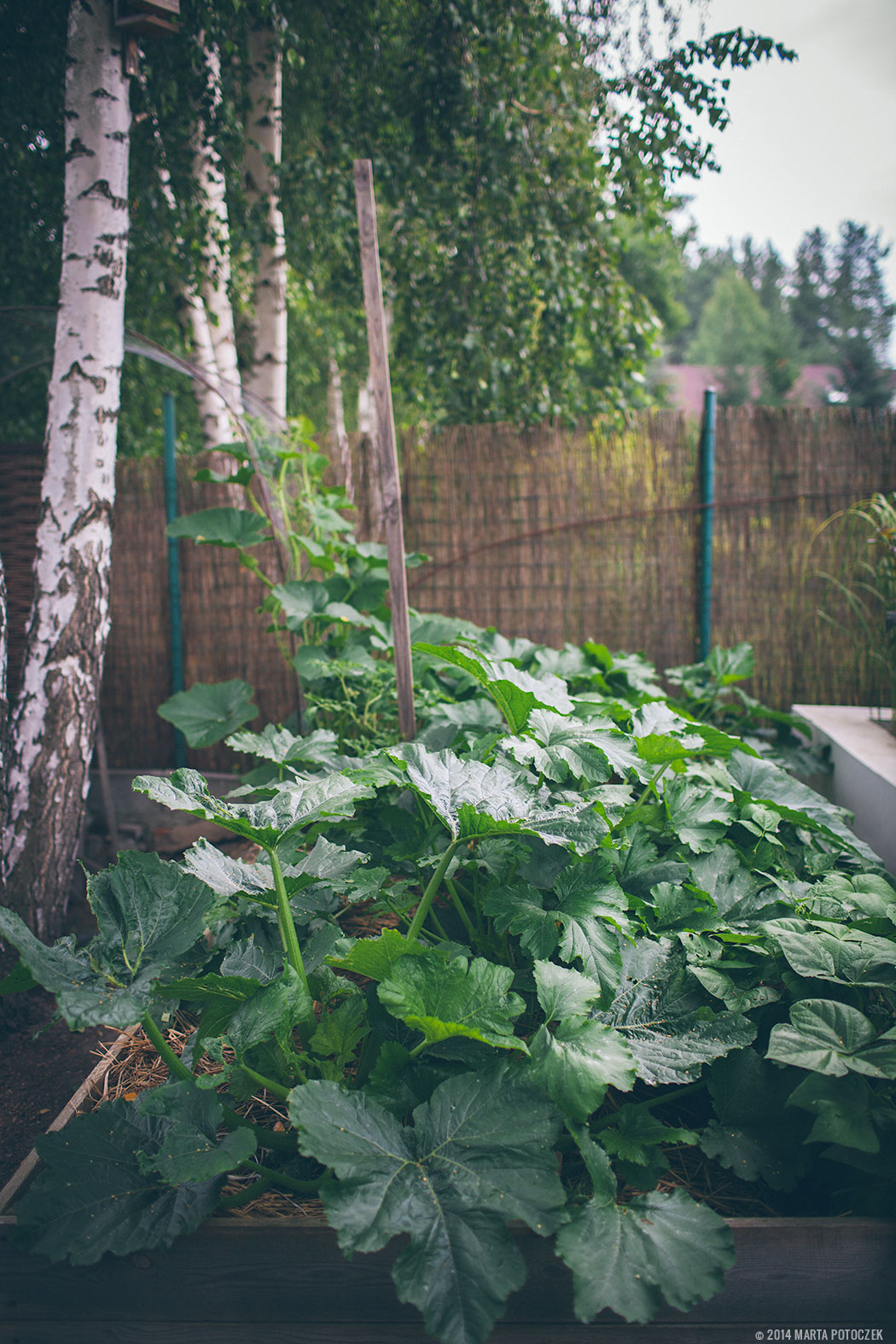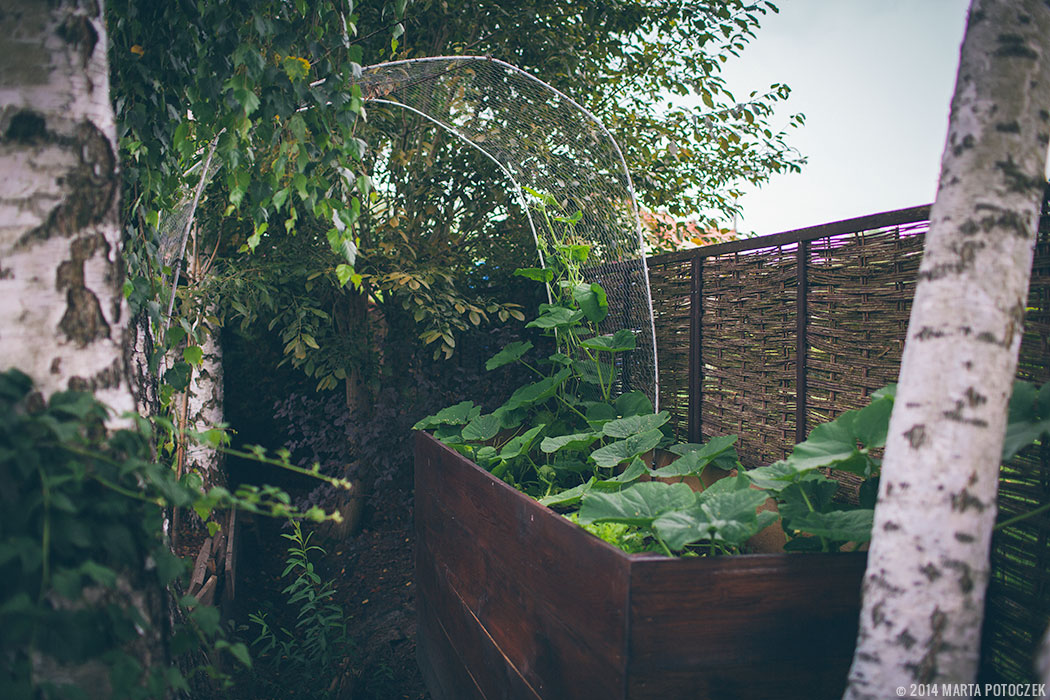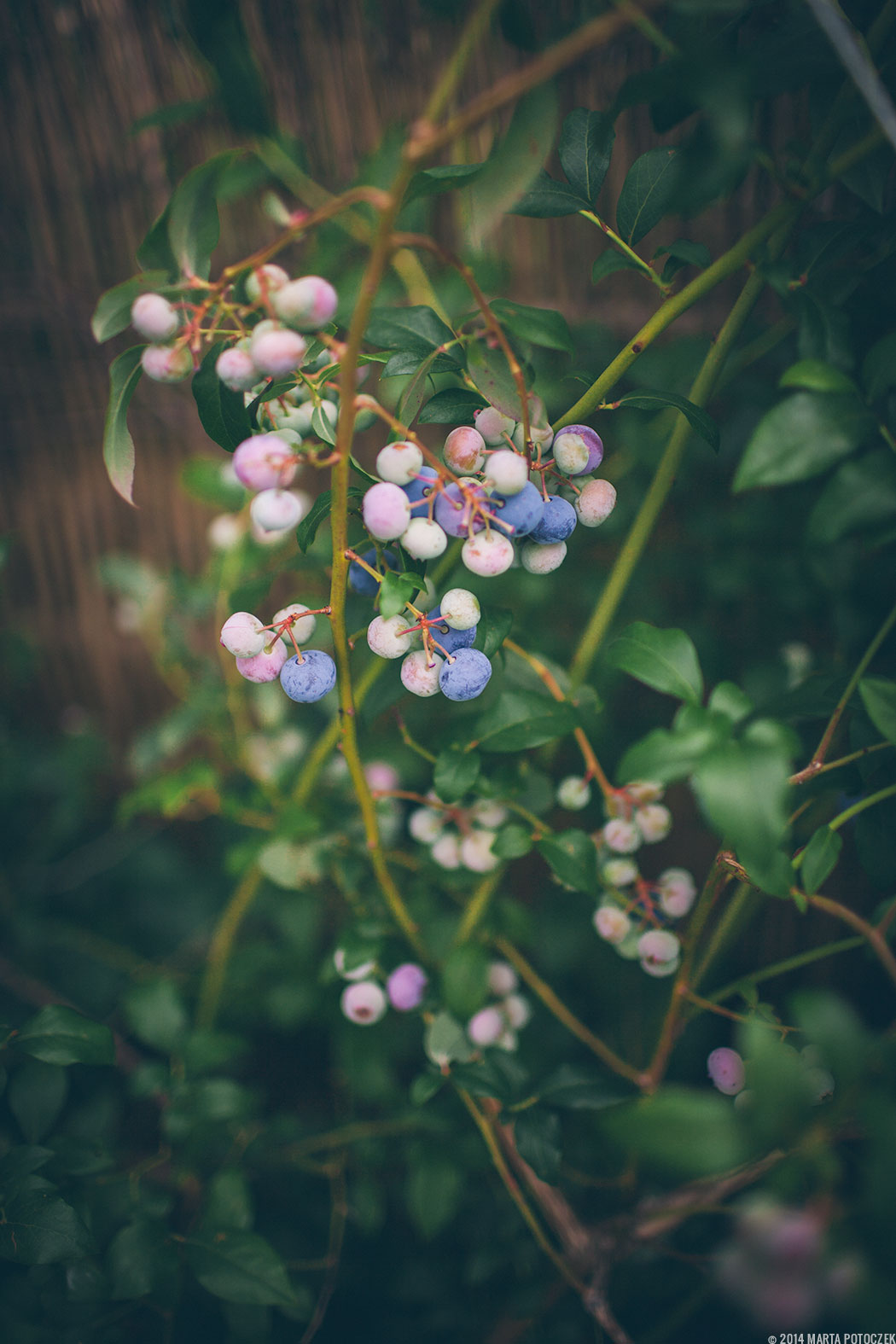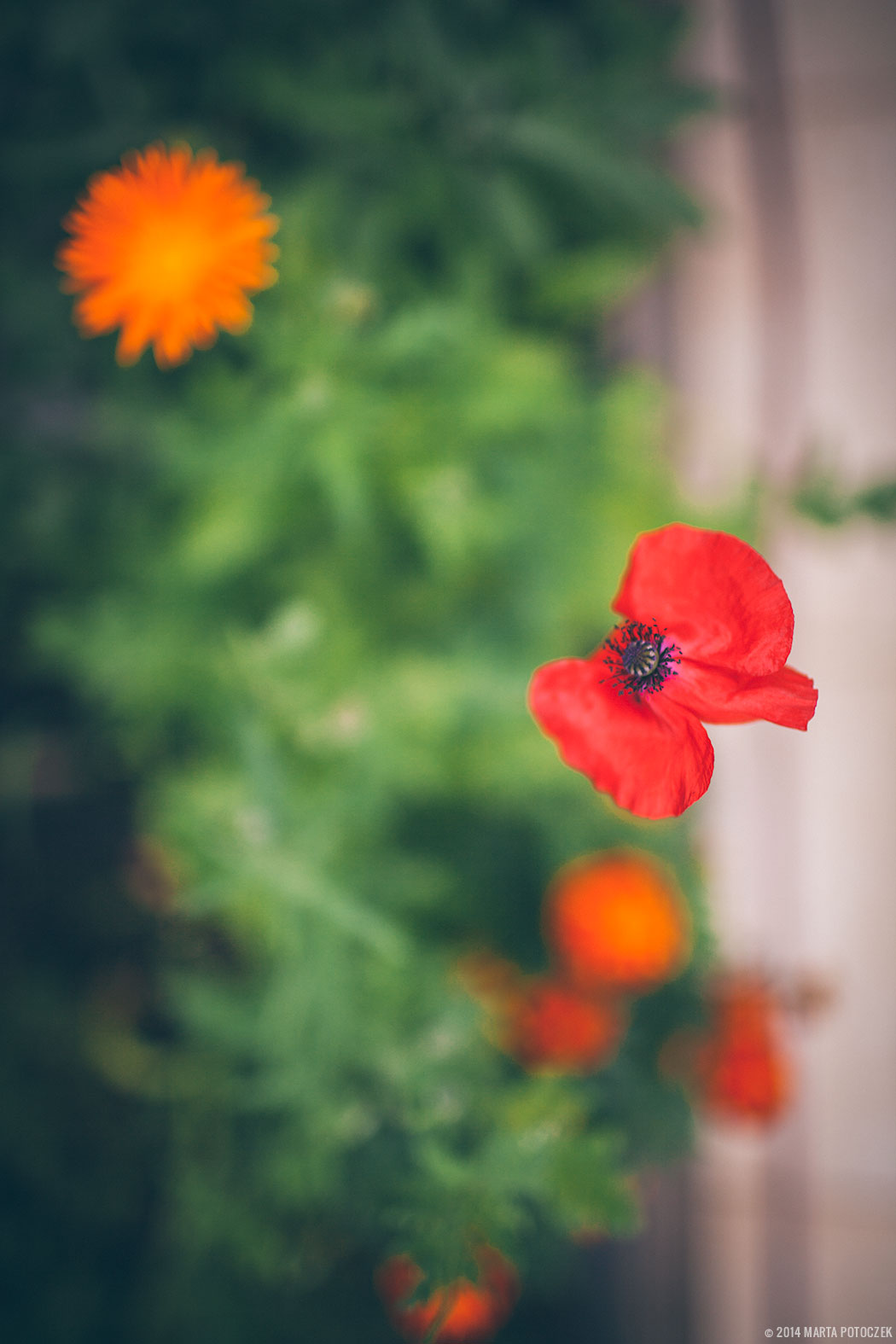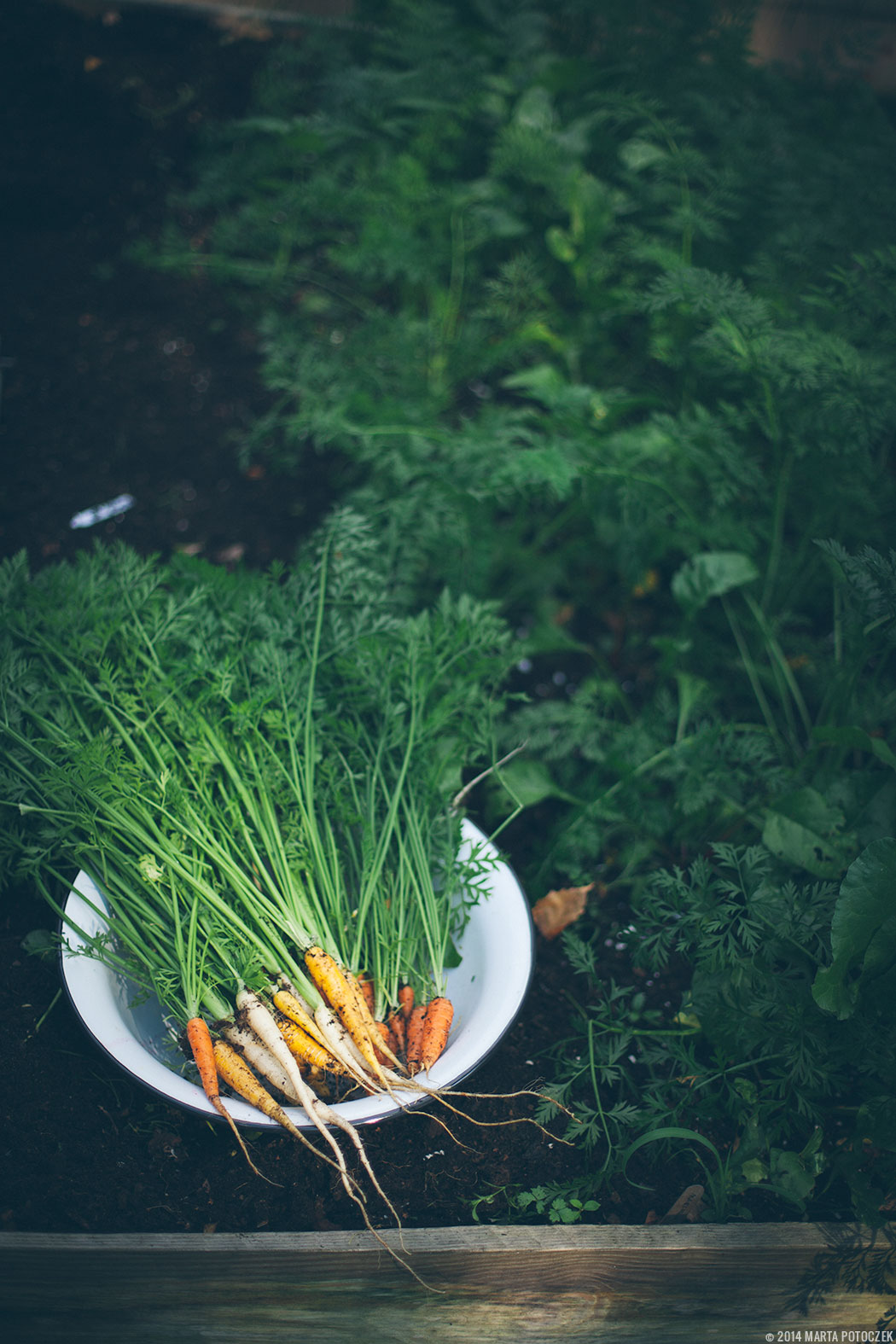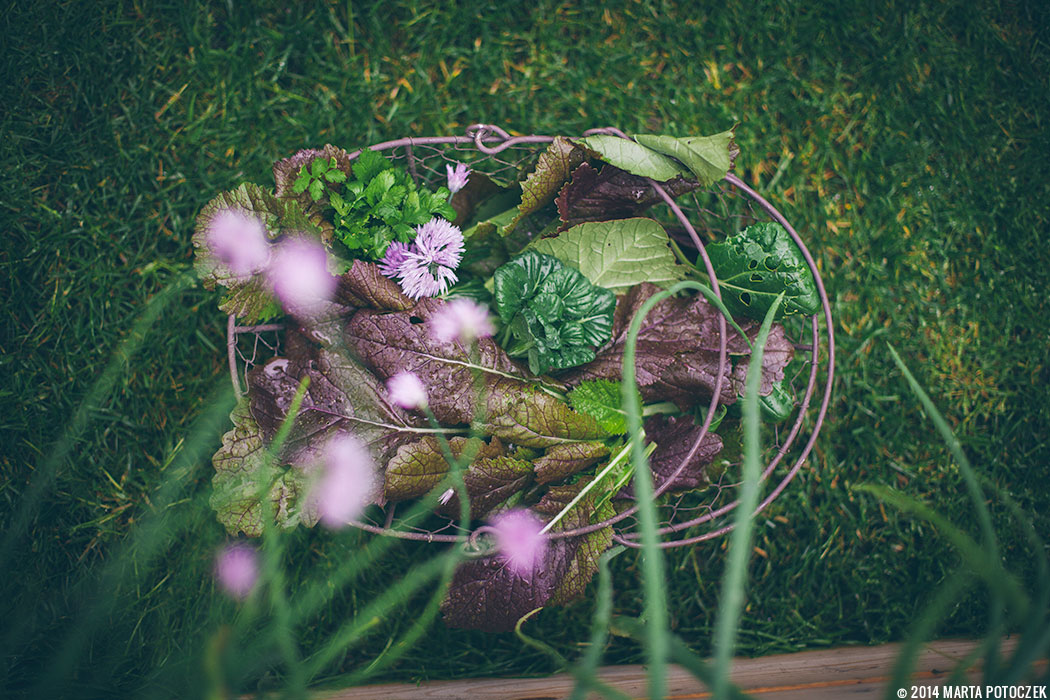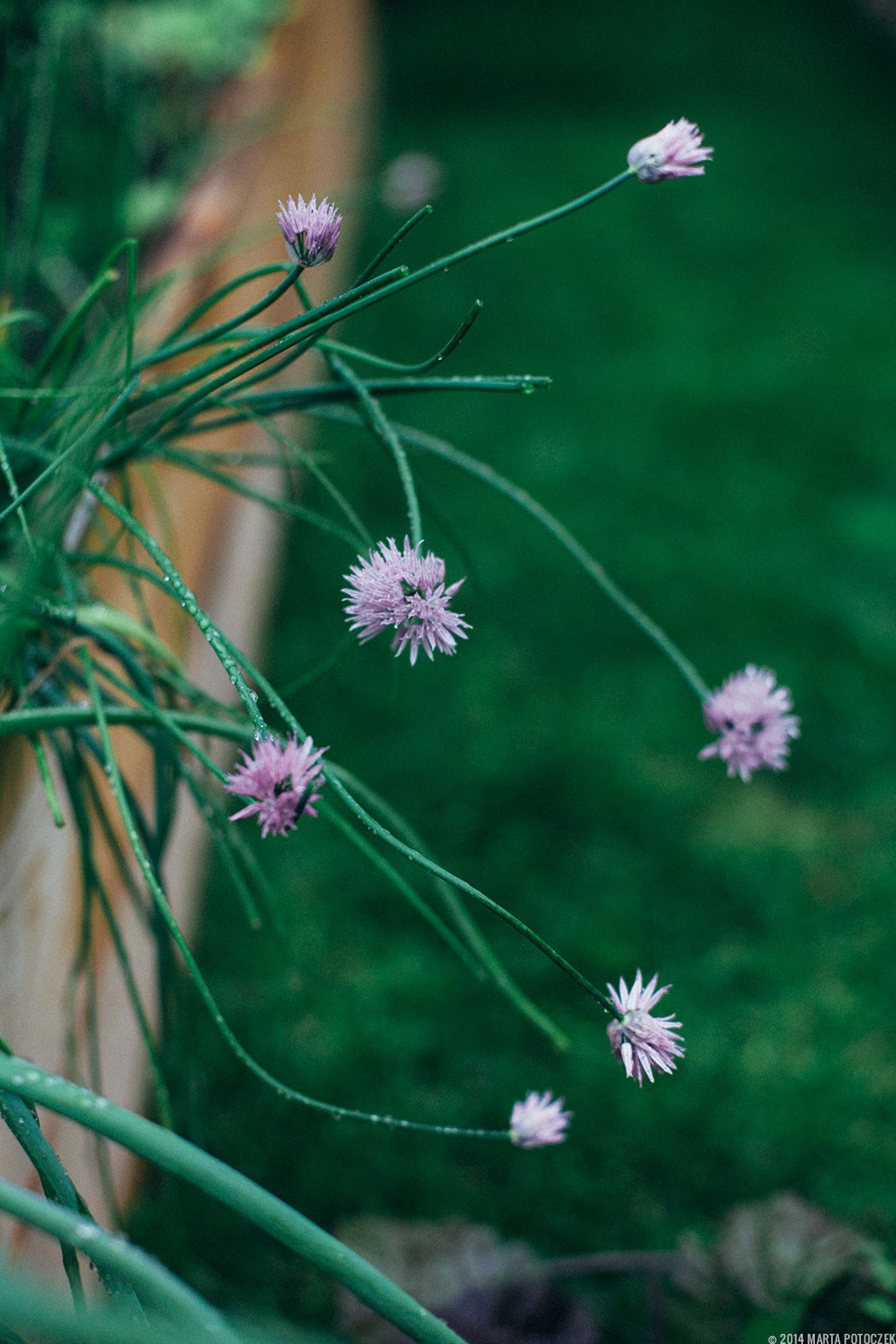 What do you grow in your gardens guys? Do you have any favourites?
I have learned that my favourites to grow are: tomatoes, peas, lettuce, spinach, hot peppers, zucchini, squash and all the herbs I can find. I love growing edible flowers too!