Hello kids. Happy New Year!
I had taken some time off to spend as much time as I can with my sweet family. I feel so energised and full of love! I baked like crazy during Christmas break, because I was already planning my huge three months with no sugar and milk time. I will write you all about it and if you want you can start your diet with me. But first of all let me share a few sweet recipes with you. If you're planning a big change have a weekend of indulgence 😉 I did and it's been two weeks since my last sugar meal and I don't even feel the urge to grab a chocolate even if Gaba is having one in front of me.
Talking about chocolate. I made these chocolate crinkles just before New Year's Eve. If you like chocolate cookies melting in mouth this is a recipe for you. Gaba made half the batch, so it's also pretty easy if 11 year old can do it, right? I even made some pics of the process for you.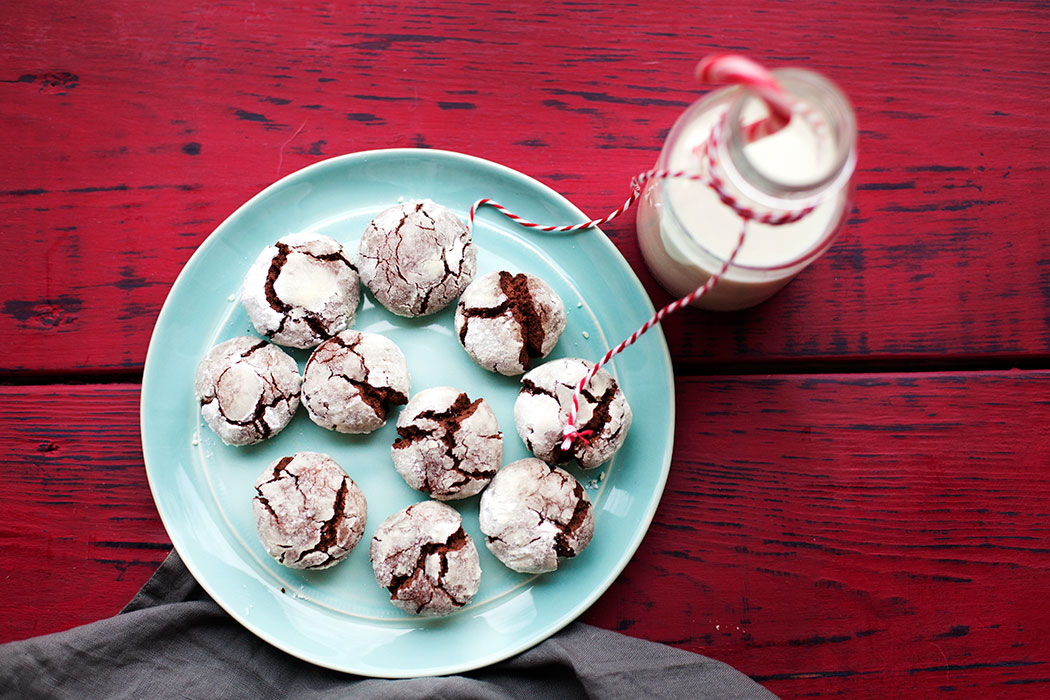 recipe from "Joy of baking" blog

RECIPE – CHOCOLATE CRINKLES
4 tablespoons (56 grams) unsalted butter
8 ounces (230 grams) 80% chocolate, coarsely chopped
1/2 cup (100 grams) granulated white sugar
2 large eggs, room temperature
2 teaspoons pure vanilla extract
1 1/2 cups (195 grams) all-purpose flour
1/4 teaspoon salt
chilli flakes
1/2 teaspoon baking powder
Topping: 1 cup (110 grams) confectioners (powdered or icing) sugar, sifted
In a heatproof bowl, placed over a saucepan of simmering water, melt the chocolate and butter. Remove from heat and let cool to room temperature.
In the bowl of your electric mixer, fitted with the paddle attachment (or with a hand mixer), beat the eggs and sugar until thick, pale, and fluffy (about 3 to 5 minutes). (When you slowly raise the beaters the batter will fall back into the bowl in slow ribbons.) Then beat in the vanilla extract. Add the cooled chocolate mixture and beat until incorporated.
In a separate bowl whisk together the flour, salt, and baking powder. Add dry ingredients to the chocolate mixture, stirring just until incorporated. Cover with plastic wrap and refrigerate until firm enough to shape into balls (several hours or even overnight).
Preheat oven to 325 degrees F (165 degrees C) and place rack in center of oven. Line two baking sheets with parchment paper.
Place the sifted confectioners sugar in a shallow bowl. First, form the chilled dough into 1 inch (2.5 cm) balls, and then roll each ball in the sugar. Make sure each ball is completely coated, with no chocolate showing through. Place the sugar-covered balls on the prepared baking sheet, spacing about 2 inches (5 cm) apart.
Bake cookies for about 8 to 10 minutes or just until the edges are slightly firm but the centers are still soft. (For moist chewy cookies do not over bake. Over baking these cookies will cause them to be dry.)