I have reached a low point in my diet life. Not going into details, but after a year with fighting with my knees and another one when I was trying to get on track but instead got a lot of happy hours with baguette, cheese and wine and decided it's enough. I have reached the weight I feel unhealthy at and decided to do the same as 7 years ago when I lost 20 kg- quit sugar, flour and alcohol and signed up to the same club as before. It worked then, maybe it will work now. It's the only way I can deal with my addiction to carbs- say absolute no to any intake of SUGAR, anything made out of FLOUR and alcohol.
So here I am on week two of my new adventure. Week one was terrible- I spent time with a watch counting minutes until next meal and dreaming about chocolate. Week two is so much better. I lost 3 kg so far and have exercised for 8 hours each week. We'll see how it goes. I have a lot of my diet recipes for ya. I'll write more detailed post once I hit a month of sticking to my routine. For now my mindset is perfect- it's the one I was searching for the the last two years….
Today I have a really cool butternut squash recipe for you. I love to have it for dinner. It comes from a book I absolutely recommend which is called Persiana I just saw that it's on sale on Amazon!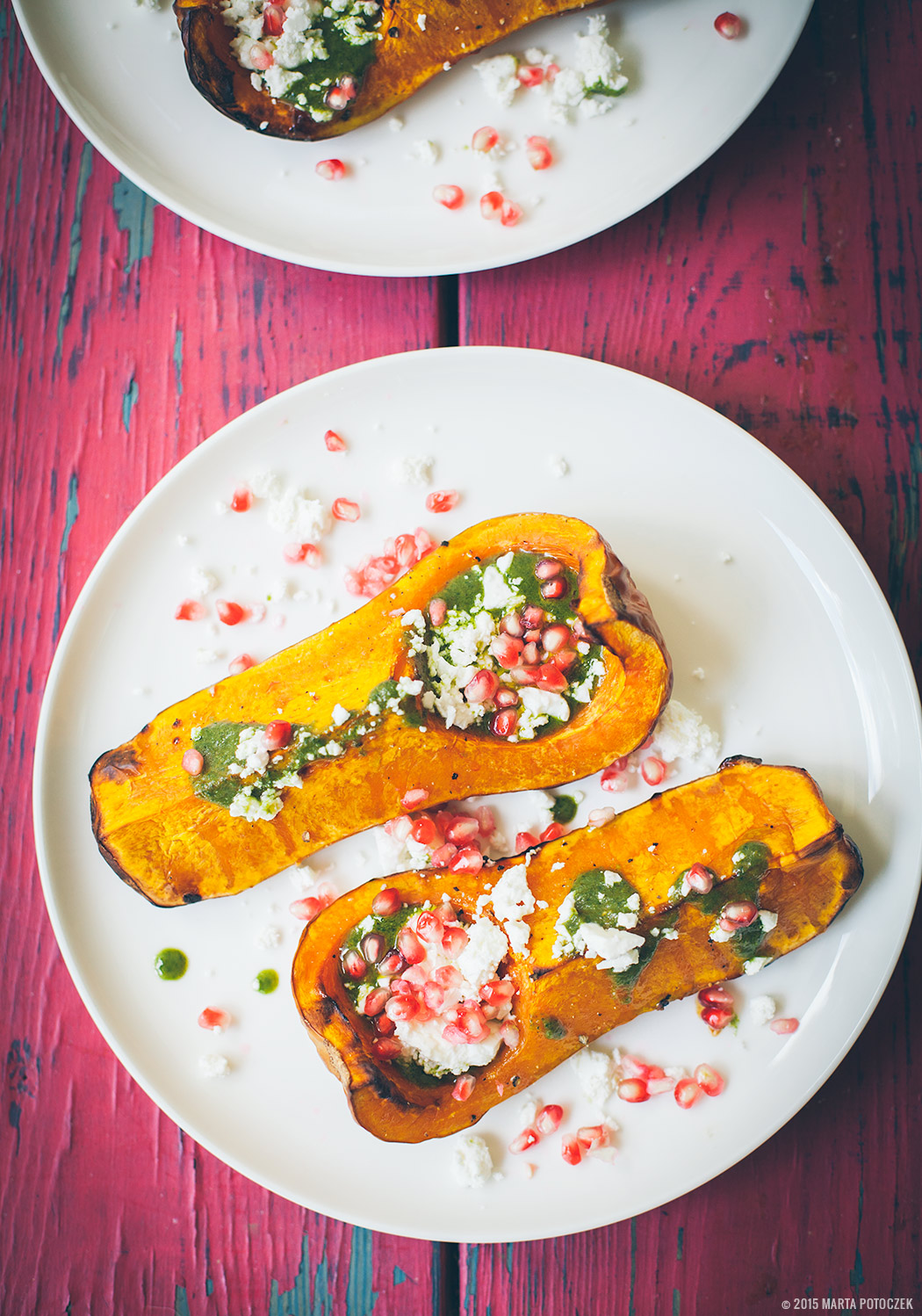 RECIPE – BUTTERNUT SQUASH WITH PISTACHIO PESTO AND FETA
100 g shelled pistachio nuts
70 g Parmesan or Grana Padano cheese, chopped into rough chunks
1 small bunch of parsley, leaves picked
1 small bunch of coriander, leaves picked
1 small bunch of dill, leaves picked
Olive oil
Juice of 1 lemon
2 parsleys(roots)
Sea salt
1 large butternut squash, quartered lengthways and deseeded
4 tbsp olive oil
Freshly ground black pepper
150 g feta cheese
100 g pomegranate seeds
In a food processor, blitz the pistachios and cheese together, adding a generous amount of olive oil to slacken the mixture. Put all the herbs into the food processor with a little more olive oil as well as the chilli oil and lemon juice and blitz again, then add a handful of crushed sea salt and give the mixture one last blitz. Taste the pesto, ensuring it has enough salt and acidity, then allow it to rest in the refrigerator until you need it.
Preheat the oven to 200°C/fan 180°C. Once the oven is hot, rub each wedge of butternut squash with the oil, season generously with sea salt and black pepper and place it on a baking sheet lined with non-stick baking paper.
Roast the squash for about 45 to 50 minutes, or just until the edges have begun to char slightly. You want to blacken the edges a little – this gives them a nice chewy texture. To check the squash to see if it is properly cooked, insert a knife into the flesh – if it slides clean through, the squash is ready. If you feel resistance, return the squash to the oven for a few more minutes.
Serve each wedge of butternut squash on a plate, drizzled generously with the vibrant green pesto. Crumble the feta cheese on top and scatter over the pomegranate seeds to finish.