I love aubergines. They are the sexiest vegetables. And the best recipe for them is this one- so far from the ones I tried. It looks so pretty and tastes amazing. And if you read my blog you will know it's from my favourite chef- Yotam Ottolenghi. I remember the day I saw the picture for this recipe- it was the day I heard of this guy and tried his dishes for the fist time. I am now a proud owner of all his books and have visited his restaurant in London and a huge fan. His books made me look at vegetables in different way, opened my eyes to so many new flavours and tastes. Few days ago I realised that I never posted this recipe, which is odd, because I make it pretty often. Just look at how beautiful it looks and imagine how it tastes! Or don't! Just do it and try yourself.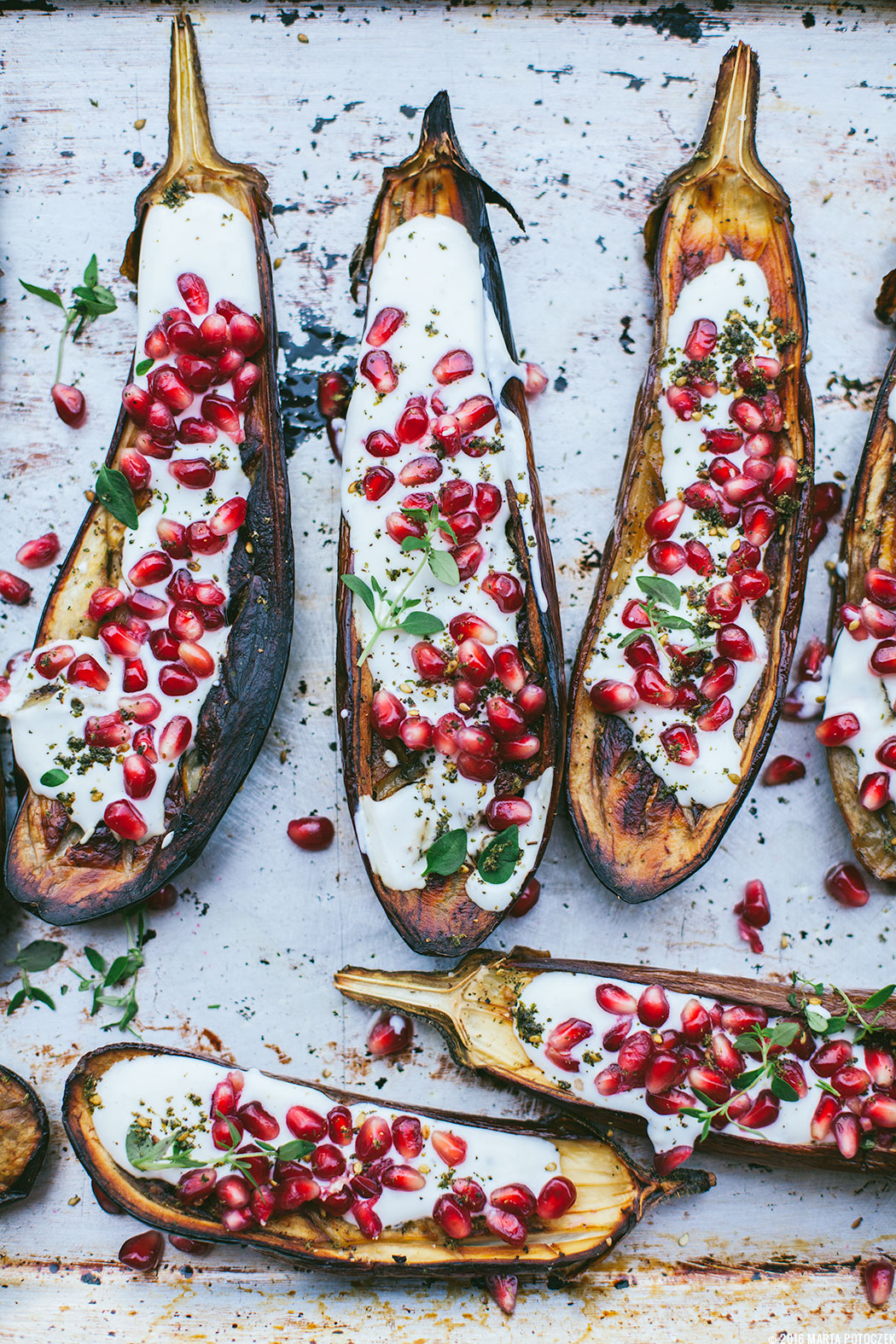 RECIPE:
5 large and long aubergines
75ml olive oil
coarse sea salt and freshly ground black pepper
1 pomegranate
1 tsp za'atar
a few sprigs fresh lemon thyme
SAUCE
140ml buttermilk
100g Greek yogurt
1½ tbsp olive oil, plus a drizzle to finish off
1 small garlic clove, crushed
pinch salt
Preheat the oven to 200C/400F. Wash the aubergines and cut them in two lengthways through the green stalk. Make four deep parallel incisions in the cut side of the aubergine, taking care not to cut as far as the skin. Then, at a 45-degree angle to these cuts, make four more, to create a diamond pattern.
Put the aubergines, cut side up, on an oven tray lined with baking parchment and brush with the oil. Keep on brushing until all the oil has soaked into the flesh. Sprinkle with salt and pepper, and roast for 35-40 minutes, at which point the flesh should be soft, flavoursome and well browned. Remove and leave to cool.
While the aubergines are in the oven, cut the pomegranate in two horizontally. Hold one half over a bowl, the cut side facing your palm, and with the back of a wooden spoon gently knock on the skin. Continue beating with increasing power until the seeds start falling into the bowl. Once all are out, sift through the seeds to remove any white skin bits. For the sauce, simply whisk together all the ingredients, taste for seasoning and keep cold until needed.
To serve, put an aubergine half on a plate, flesh side up. Spoon over lots of sauce without covering the stalk, sprinkle on lots of pomegranate seeds and some za'atar, garnish with lemon thyme and finish with a drizzle of oil.