This year we had ugly May in Poland. It was super cold, dark and gloomy. Yikes! My favourite month was really disappointing. June has just started but from the first day we got a heat wave, hight temperatures, lots of sun. Summer written with capital S. Gaba passed her exams with amazing score(99% baby!) and got into the school she wanted. All the pressure is gone now and we can indulge into summer. When we were wandering through Barcelona last month we got crazy about strawberry mojito drink we had in one of the bars(she drank the one without alcohol of course). So I decided to put our memory into a popsicle. The recipe is for a non alcoholic one, but feel free to add some rum into the mixture and make yourself an adult popsicle.
I know you will ask what mold do I recommend- My absolute fav is this one from Amazon
I've had it for a year now and still love the classic shape. It's very sturdy and there is no problem with taking the pops out. So highly recommended!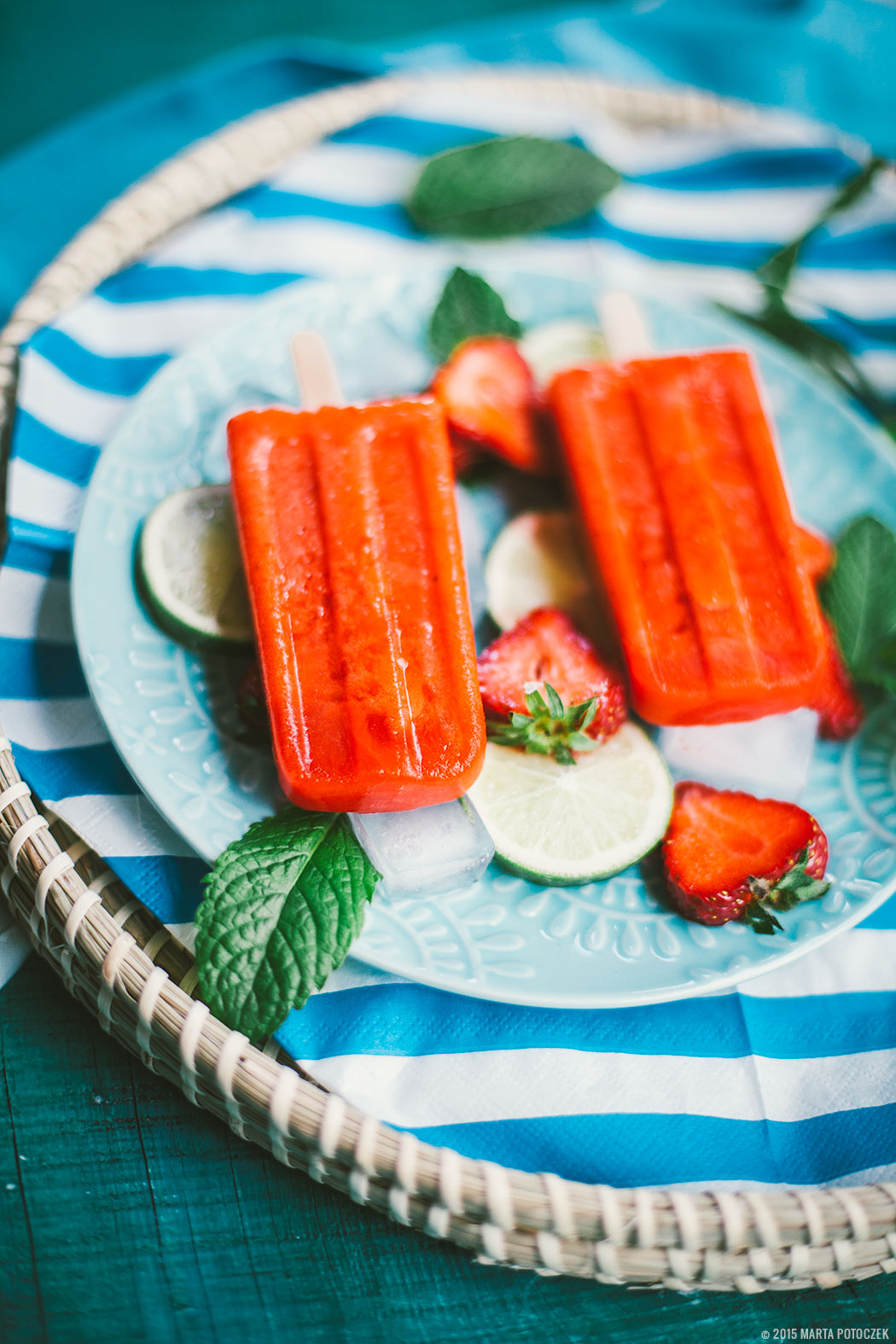 RECIPE- STRAWBERRY MOJITO POPSICLES
250 g hulled strawberries
9 sprigs of mint
1 cup simple syrup(SUGAR/WATER)
juice of six limes
First of all- simple syrup is sugar heated with water in the ratio 1:1. I usually make a bigger batch and keep it in the fridge. I pour sugar and water into a pan and heat it until it starts to boil. Get it off the heat and put mint(only leaves) in. Let steep for 10-15 minutes. Discard the leaves. Leave to cool. Put strawberries, lime juice, simple syrup in a blender and mix until pureed. Pour the mixture into a popsicle mold, put wooden sticks in and freeze for at least 8 h. Before eating run hot water over the mold.