This week turned to be all about lamb. Whenever we spend weekends at home I love to make good old roast for dinner. This time I made this rack of lamb. Simple to make, always a crowd pleaser. I paired it with something different than the usual garlic or tzatziki dip and it turned out pretty great.
RECIPE – ROASTED- RACK OF LAMB WITH GARLIC AND ROSEMARY
rack of lamb
1 large garlic head
8 sprigs of rosemary
salt, pepper
sunflower oil
Preheat the oven to 200C. In a mortar crush all garlic cloves from the head with a tablespoon of salt- make a paste. Chop all the rosemary (except the woody parts) and add to the mortar, crush with the garlic. Add 2 tablespoons of oil, mix. Make several diagonal cuts into the meat. Rub the mixture all over, massaging the meat for a few minutes. Leave for 2-3 hours to marinate.
Put some baking paper on a baking tray, place the meat on it. I also add small potatoes that are rubbed in the same mixture and bake them together. Bake for 30- 40 minutes depending how well done you like your lamb. Let rest for 10 minutes after you take it out of the oven.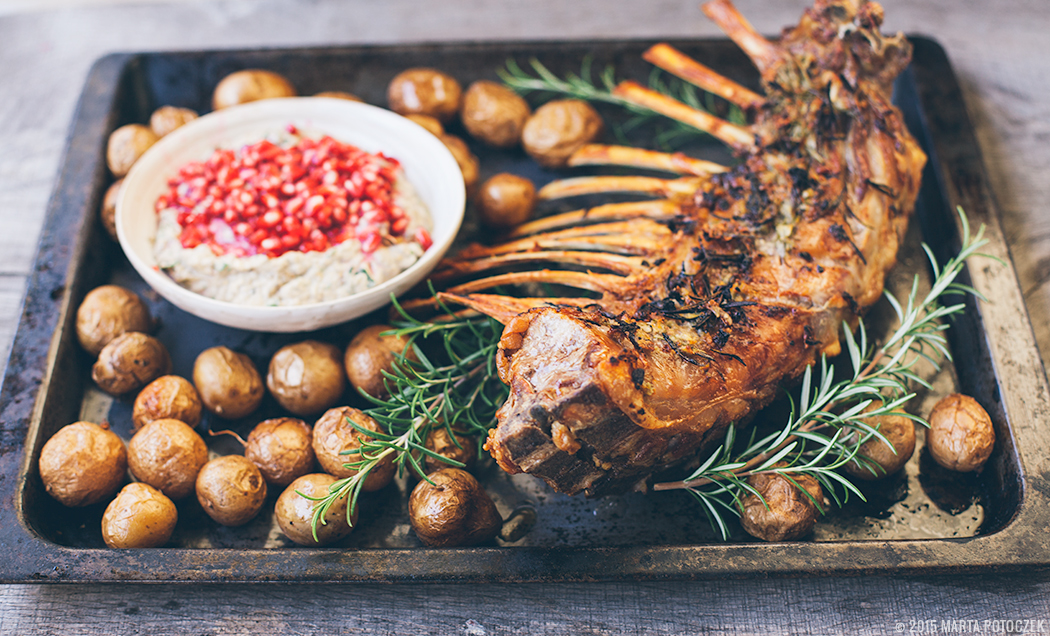 Maybe you'd also like to try the aubergine dip I served with the lamb?
RECIPE – AUBERGINE DIP
2 aubergines
100 g tahini paste
salt, pepper
3 T pomegranate molasses
1 garlic clove
juice of half a lemon
4 T chopped parsley
seeds of 1/2 pomegranate
Preheat the oven to 190C. Pierce aubergines with the end of a sharp knife so they don't explode.Cook them on a tray for 45 min-1h or until they are soft to touch. Let cool and then cut into halves and scoop the insides. Mash with a fork. Add tahini, molasses, crushed garlic, lemon juice and parsley and mix well. Add salt and pepper to taste. Serve with pomegranate seeds on top.