This is a cake that is on our table at least twice a month. I have never posted a recipe because I never have time to shoot any photos it disappears so quickly. Gaba loves taking a piece or three to school, friends refer it to as "that cake that tastes like the one my grandma made during summer". My thoughts exactly! The recipe is so easy you'll memorise it second time you make it. And it goes well with so many fruits, each time it is a different cake. I start in March with forced rhubarb, then mix rhubarb with strawberries, then turn to apricots, then peaches,then plums, plums and apples. Then in December I turn into my freezer for frozen rhubarb, apricots…etc you get the story. I got so lazy I started baking the cake in a tray just lined with baking paper. All the work is done by the mixer, so all you have to do is almost nothing. The key to amazing results (as always) lie in the quality of ingredients, so buy some really good organic eggs from hens that have seen some green. I also buy organic, unbleached white flour from little mills and make my own vanilla extract. Now that you have all the good things in your kitchen, let's do it.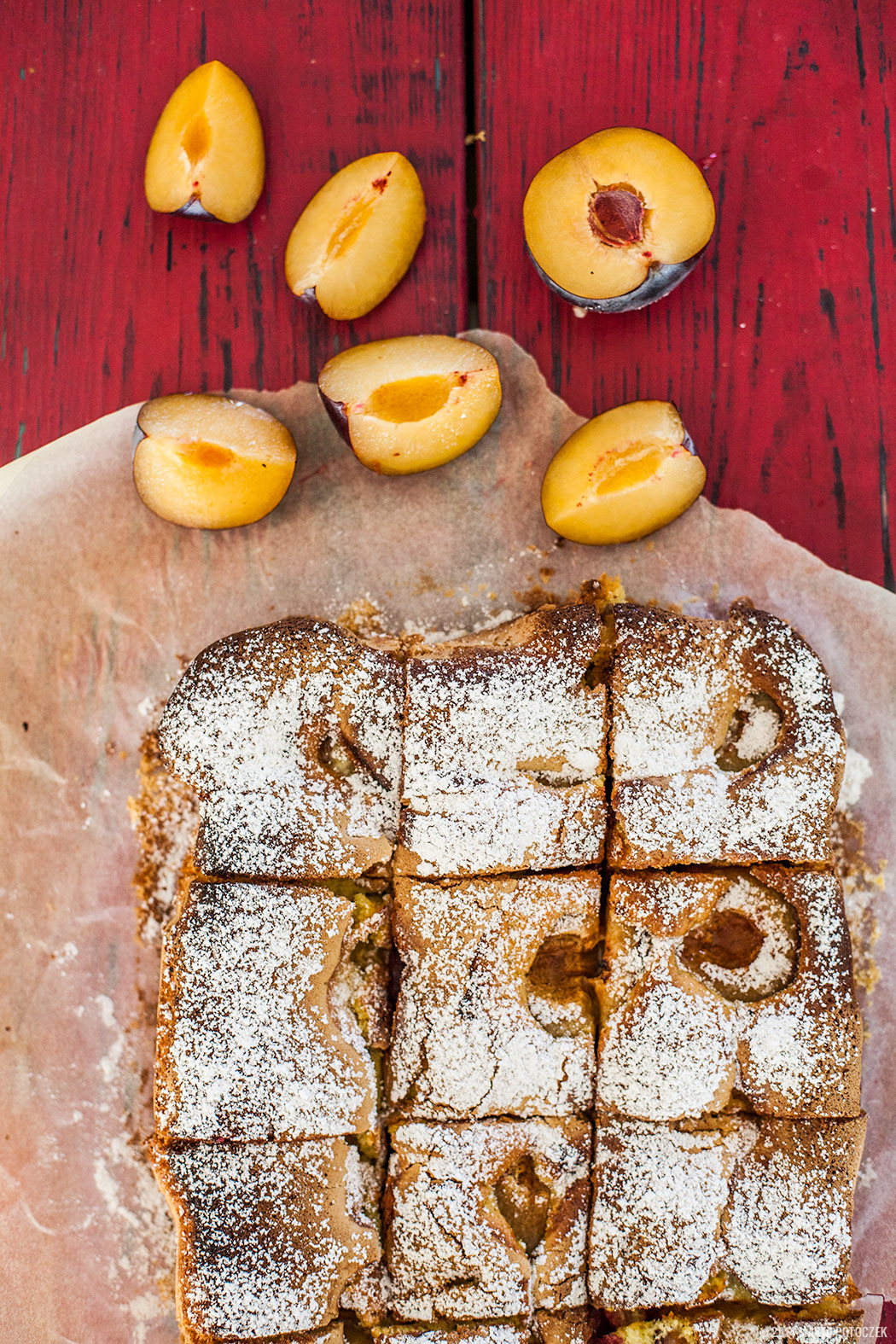 RECIPE – PLUM SPONGE CAKE
5 organic eggs
1 cup white flour
1 cup sugar
1 heaping teaspoon baking powder
1 teaspoon vanilla extract
1 cup plums(pitted and halved)
confectioners' sugar
Preheat your oven to 180C/356F. In a mixer put eggs, sugar and vanilla extract. Mix until pale and fluffy, about 3 minutes. Sieve flour with baking powder, add to the batter and mix until combined. Line baking tray with baking paper. Pour the batter in. Put plums in, cut side up. Put in the oven for 35/40 minutes . Check to see if the cake is cooked by sticking a cocktail stick or skewer right into the middle of the sponge, if it's clean, the cake is ready. Let cool a bit, sprinkle with confectioners' sugar.