Thank you for interest in my new beauty section guys! I wasn't sure if it would have any views and I was so surprised to see as blog statistics went crazy and the first post about my skin care is already one of the most popular posts on the blog. So I'm posting another favourites post today. It's all about the make up products I love. As I wrote you in the previous post I wasn't a good girl in terms of skincare, but I have always loved make up. As a teen I'd do it for my sis, my friends from school and myself. When I started working as a photographer I got to meet lots of make up artist and watch their work. Lovely experience and a huge plus was the ability to get a look into their huge bags of make up and chatting about their faves. So over the years I got to watch and try lots of great stuff. It never ends as there is always so much new stuff around. More fun for us girls, right? 🙂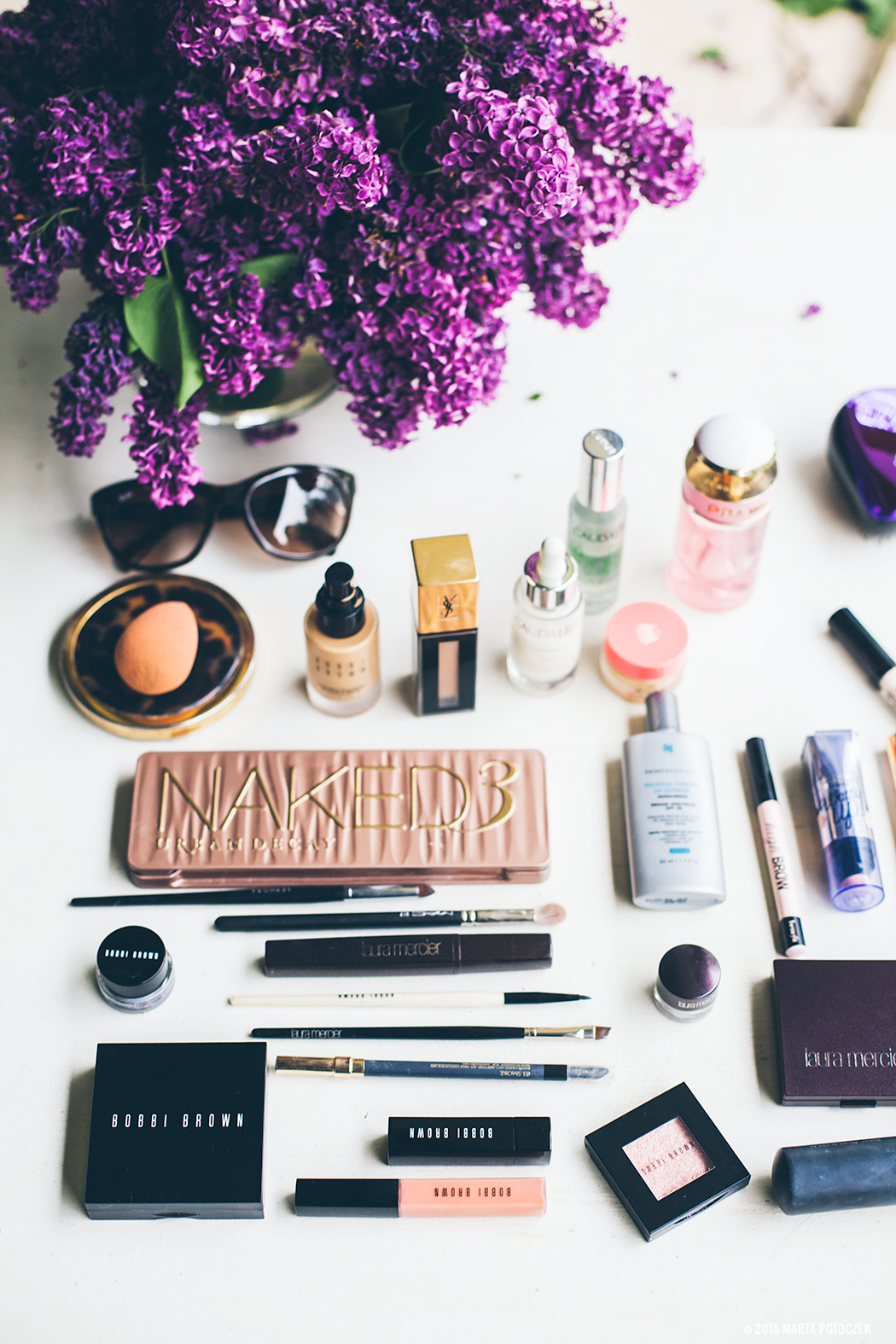 My skin is olive toned and combination, I have slight tendency to dark circles and dry skin under my eyes. So the make up I use works great for me, but doesn't have to work for you. We never know until we try something out. I love that nowadays you can just go into Sephora or other huge cosmetics shop and test everything on yourself. It wasn't like that when I was a teen, ugh…
What I've learned over the years is that I need my skin to be nourished and exfoliated before putting any make up on. Ditto my previous post! I will write another one on the exfoliation products and techniques I love.
Let's get to the products I love. Let me know about yours! I am never tired of hearing about other girls' favs 🙂 I am a total sucker at taking my own photos- noone was home to help with that so we're stuck with my "mirror/big camera selfie". I would be so much easier posting from my phone 😉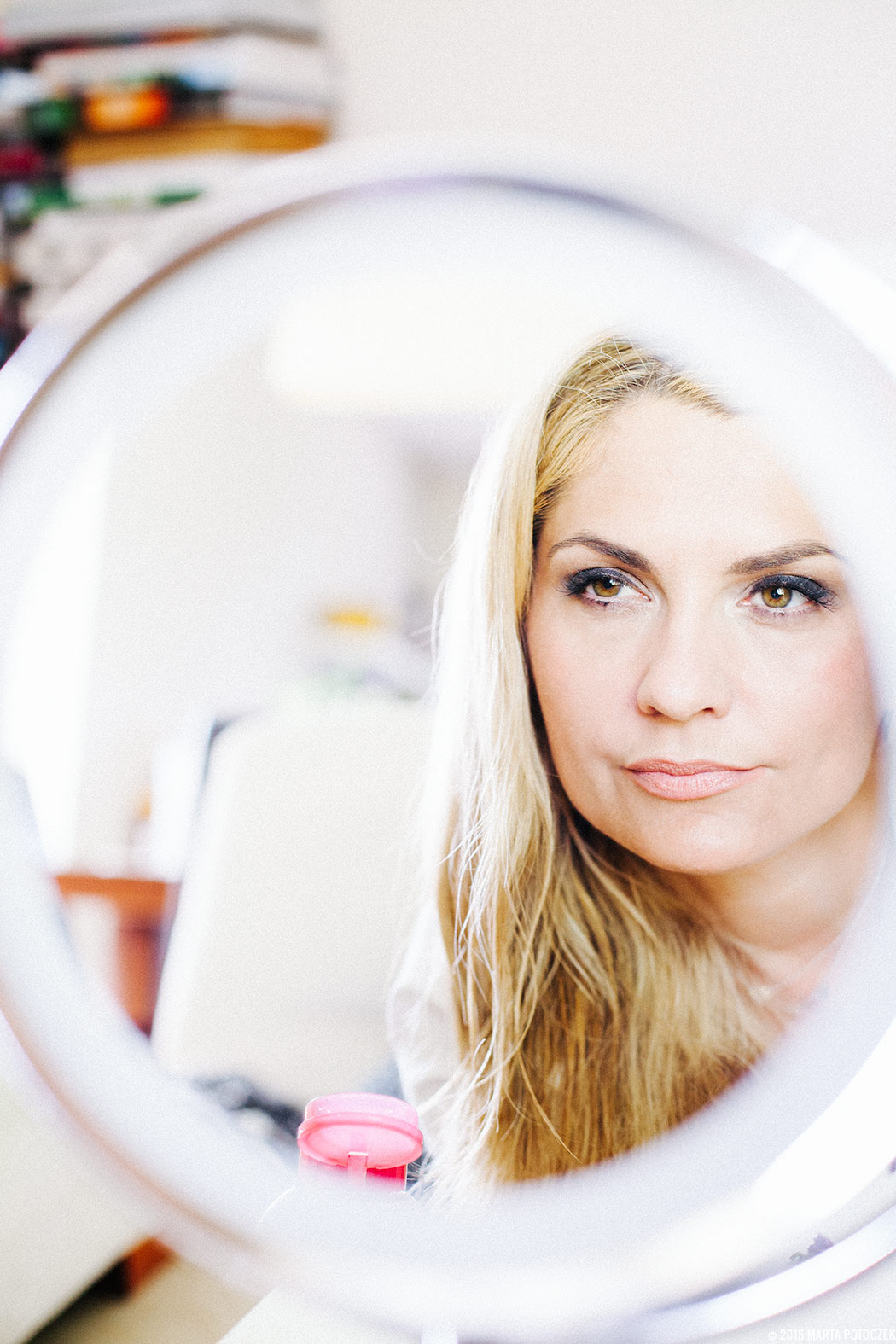 Base: Skin Ceuticals Physical Fusion UV Defense my fav- SPF 50, very light, doesn't clog my pores and evens out my skin tone. FAV!
Foundation:
Bobbi Brown Long Wear Even Finish Foundation SPF 15 I wear "Natural Tan"
YSL Le Teint Encre De Peau Fusion Ink Foundation SPF18 I cannot pronounce that name, but such a great foundation, I own B50, which I bought in winter, now it's a bit too beige. Matte finish, looks like second skin, very light, perfect for summer.
Diorskin Nude I loved this one, will be definitely getting one more bottle for summer, similar to YSL, can't remember the colour I had.
Concealer:
Laura Mercier Secret Camouflage cult product, love it like everyone else does. I own SC-3
Nyx Concealer wand I own this in few shades, great coverage, amazing quality, low price is a great bonus
Highlighter:
YSL Radiant Touch/ Touche Eclat I've had this little fella in my bag for years now- I use it between my brows, in the corner of the eyes, and above my upper lip. I keep it in my bag when I'm out, so I can fix any highlighter problems I might get. I wear number 2, Luminous Ivory/Beige
Benefit Watt's Up for my cheekbones
Laura Mercier Mineral Illuminating Powder I've had this one for just few weeks, but am already in love. Gentle highlighter, that gives you that healthy summer glow- LOVE!
Bobbi Brown Bronze Shimmer Brick Set
Powder:Collistar SILK-EFFECT LOOSE POWDER I've been using this beauty for two years now-almost everyday and I always wonder is it magic that it doesn't end 😉 Got it as a replacement of something that wasn't in stock one day. Oh how I love days like this when I discover amazing products 🙂
Blush: My two favs are powder blushes from MAC- for more coral look I use Modern Mandarin, and for more porcelain/pink look I use Dame.
Time to get into my fav part of make up EYES! I think eyes are my best part, so my main work is always around them. I wear lash extensions so I usually only put mascara on lower lashes. My own lashes are short and despite many tries and regimes I went through I never got them to look good. Lash extensions are amazing- I get them done every 3 weeks and wake up with my lashes spot on everyday. So for lower lashes I usually wear Laura Mercier Long lash Mascara. I've been sniffing this Lancome beauty for some time now- any opinions on that one, anyone?
Brows:
Another part of my face that is so important for me to look good. They've had their bad times, oh yes they had 😉 I have them done every 3 weeks when I have my lash extensions made. In between I use this combo by Tweezerman to keep them looking fresh and neat.
During make up I use two products:
Laura Mercier Brow Definer in Warm with a Laura Mercier brow definer brush. They are very stubborn fellas and sometimes they need some of this.
and I like this brow highlighter pencil from Benefit
Eyeshadows:
My absolute fav these days is this palette URBAN DECAY called Naked 3. There is a new Naked palette to be released for smoky eye and it looks amazing. Can't wait!
Few other favs are MAC's Soft Ochre paint pot, Bobbi Brown's Ballet Pink Sparkle Eye Shadow.
Eyeliner/Eye pencil:
Estee Lauder Eye Pencil in Smoke. I've been using it for years and it has never failed. So I always end up with the same pencil over and over 😉
My fav eyeliner of all time, product I cannot live without 😉 is Bobbi Brown Gel eyeliner with a brush from Bobbi Brwon as well. This combo is amazing. I think best product they have. I've been struggling with eyeliners or years and this one just made it so easy! Must have!! I own Black Ink.
Lips:
Last but not least- lips. Here is my greatest rotation- there's no such thing as too much lipstick in your bag, right? I love nude colours, these are just everywhere 😉 For the last few weeks my favs are: Coral Pink lipstick fromBobbi Brown, pinky from Clarins, Bobbi Brown lip gloss in Nugat and pinky lip gloss from MAC called Right Image
Yes, that is all for today 🙂 That really is a lot to process 🙂 Let me know about your favs! Hugs!