Spring is here guys! I'm so happy! I have been waiting for this moment from October when I had my surgery. I knew when March came I would have been be able to go and work in the garden again after this terrible time of reconstructing my spine so I would not be paralised. And yes! March is here,I am feeling better and better everyday. I got a permission to work out and work in the garden in reasonable amounts of time. And man I have got a lot of plans. You can see my everyday in my instastories!
But as it is a weekend I wanted to share a recipe for an amazing cake. I have baked it at least four times in the last weeks and everyone loves it. The recipe for this lemon cake comes from the new book by Yotam Ottolenghi and Helen Goh called Sweet.
This summer I had such a pleasure to meet them both in London and shoot a session with them for a Polish magazine. Such amazing people. If you have been following my blog for some time you would know how much I love Yotam's books. Not surprising since anyone I know who owns his books finds them the most used in their kitchen. Meeting him and Helen in person was a dream come true. Sometimes people say not to meet your heroes but this time it was what I was expecting and even more. Loved their friendship and how they couldn't stop talking about food, haha.
So I wanted to start spring with a recipe from this particular book which is about sweets. The cake is amazing. I tried adding different amounts of poppy seed to it and like it more with a double amount of the seeds. It's a true comfort food so make sure you make it this weekend!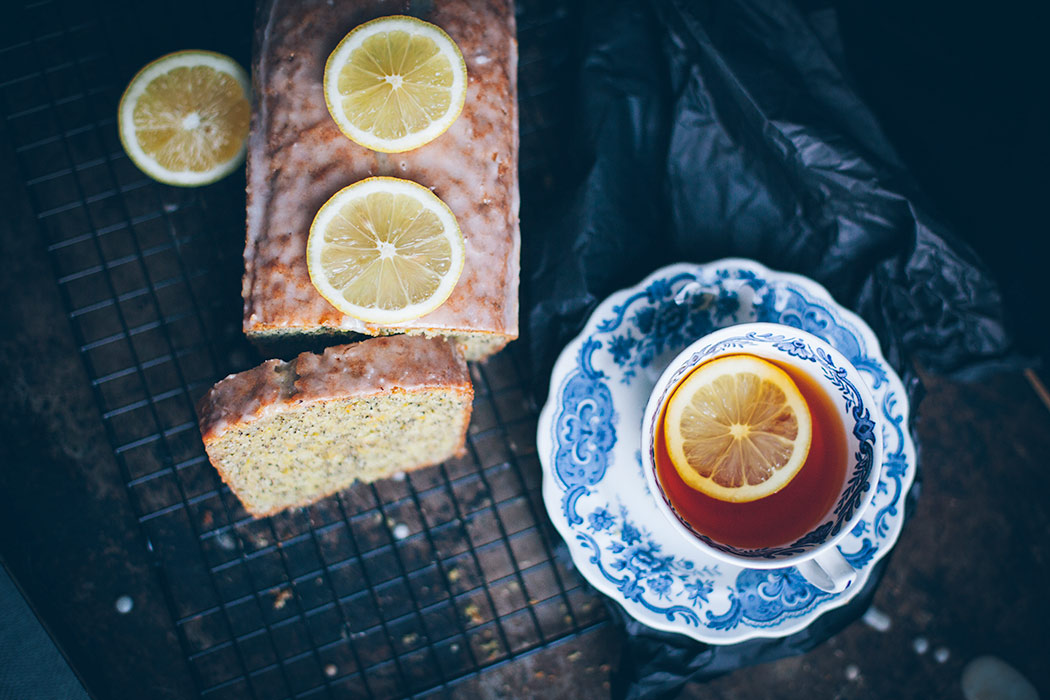 Ingredients
75g unsalted butter, cubed, plus extra for greasing
3 large eggs
225g caster sugar
120ml double cream
10g poppy seeds
finely grated zest of 3 lemons (1 tbsp)
170g plain flour
1¼ tsp baking powder
¼ tsp salt
GLAZE
100g icing
sugar, sifted
2 tbsp lemon juice
Instructions
Preheat the oven to 180C. Grease the loaf tin and line with baking parchment, then set aside.
Place the eggs and sugar in the bowl of an electric mixer and whiskuntil pale and frothy. Add the cream and continue to whisk for about 2 minutes, until the mixture has combined, thickened a little and turned pale.
In the meantime, melt the butter in a small saucepan over a low heat, add the poppy seeds and lemon zest and set aside.
Sift the flour, baking powder and salt together in a bowl, then use a spatula to fold this into the egg mixture before folding through the butter, poppy seeds and zest.
Spoon the mixture into the cake tin so that it rises three-quarters of the way up the sides. Place the tin on a baking tray and cook for 50 minutes or until a skewer inserted in the centre of the cake comes out clean.
Make the glaze by whisking the icing sugar with the lemon juice in a bowl. Pour this over the top of the cake as soon as it comes out of the oven, spreading it over the top so that it sinks in and creates a nice glaze. Set aside to cool for 30 minutes before removing from the tin. Leave to come to room temperature before serving.
https://www.lazysundaycooking.com/lemon-poppy-cake/

Marta Potoczek

 .