When I think about beauty trends in 2015 I mostly heard and read about healthy looking, glowing skin. Of course I wanted mine to look amazing too so I went on an adventure of testing huge pile of products that would give me one. In the past I wrote an article in which I talk about all the good things you can do to have a beautiful, plump skin in terms of eating and drinking. Click here to read that one. Today I'll share my favourite skincare and make up products for glowing skin 2015. I love all of those and use them on myself with great results. My skin looks fresh, plump and is very soft. I've been fighting with uneven skin tone from the time I turned 25 and they work well on that too. Thank you glycolic acid and retinols for that 🙂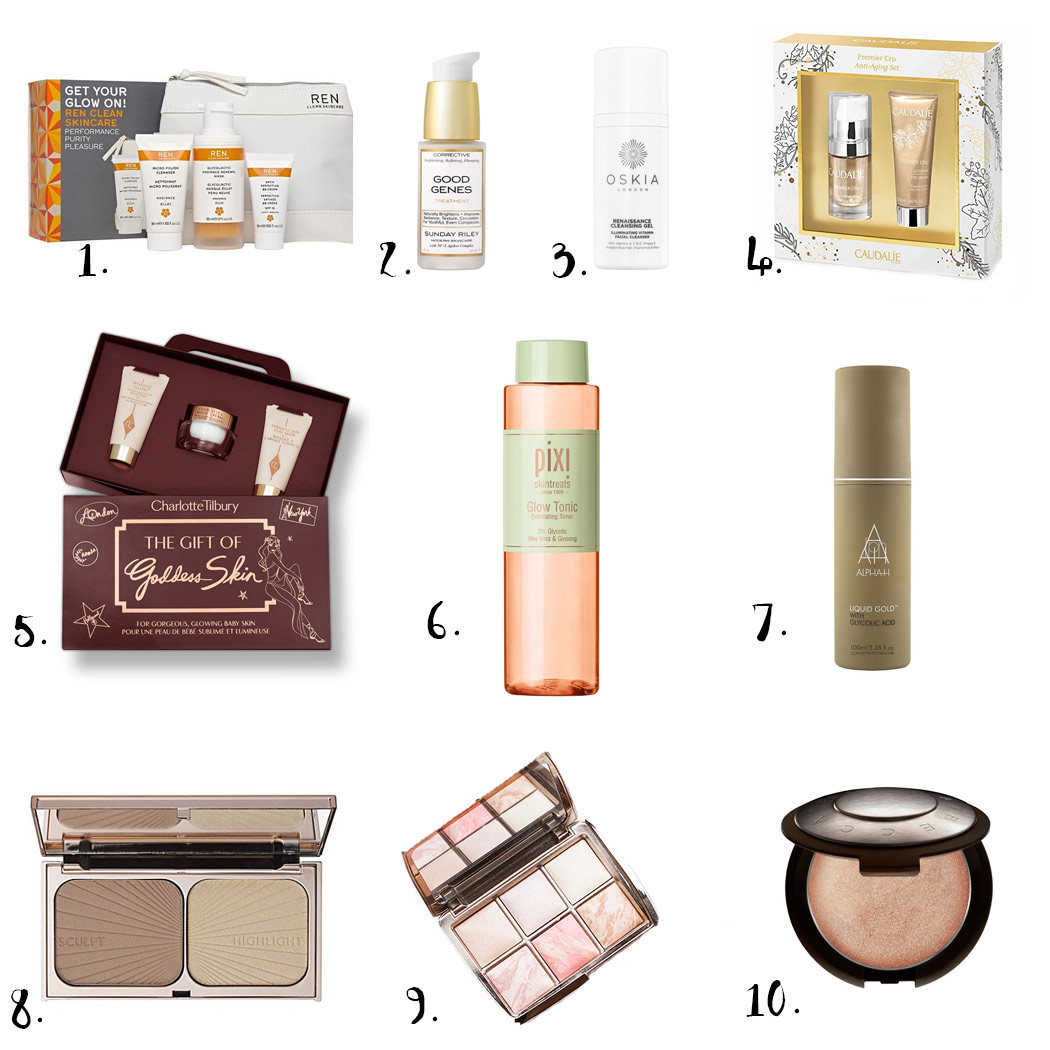 1.Get your glow on by REN. £32 Cult Beauty , £41,75 Amazon. I actually bought this in London in spacenk. I used Glycolatic mask before and I loved it, I think it's my favourite mask of all time. I wanted to try the combo and now I first use the micrpolish cleanser- which is a scrub! and then I apply the mask, leave for 10 minutes and viola! you have a brand new skin that feels baby soft. The texture of this mask is gel like, smelling citrusy. You wash it way, it doesn't dry out. It might sting. But it is so worth it! I tried the BB cream from the combo and really like it too.
2. Good genes by Sunday Riley, £85.00 Cult Beauty– this one is a pricy one- I got one as a part of a goodie bag so I could test without thinking about the price. It has lactic acid in it, you can definetely feel the job it is doing, works well with other products mentioned. If you got the money to spend do it!
3. Oskia Renaissance Cleansing Gel, £28.00, Cult Beauty– I love washing my face with this- it has got pumpkin enzyme inside which deeply cleanses pores and thoroughly removes dull skin cells without irritation plus vitamins A, C & E, starflower Oil, a powerful source of gamma-linolenic-acid (Omega 6), Magnesium and Vitamins B² & C. I love it- it cleanses my skin well, not leaving it dry or itchy afterwards. I love using it with my Clarisonic or with muslin cloth.
4.Caudalie Premier Cru line- £54.00 Amazon, I've said it before- Caudalie is my favourite brand, I've used more than 20 of its products and didn't find one that would be a disappointment. These ones are my favourite along with the elixir from the range. After all the exfoliating this brings peace to my skin and calms it down. It's rich but not in a fatty way. My skin feels really nourished after using it. I found this duo in spacenk- it had a really good price compared to stand alone products.
5.Wonderglow from the set "The gift of goddess skin" – I like two other products but no raves there, I own better face creams or masks. Nothing against them, I just wouldn't spend so much money on separate products, as a set to try, of course. I love Wonderglow- it's more glowy than my Laura Mercier, so it looks nicer. Thumb up! The only product I liked more was Tom Ford's Illuminating primer- yet more pricy option, but if you feel like spending go for that one.
6.Pixie glow tonic, £18.00 Cult Beauty, packed with glycolic acid helps it gently exfoliate dead cells of skin's surface, to reveal the 'new' healthy skin cells underneath. It's gentle, yet if you do it everyday the results are really nice. I use it in the morning and follow with Alpha H in the evening.
7.Alpha H Liquid Gold, £46.95 Cult Beauty– a powerful firming serum, this works like an 'overnight facial' to tighten and revitalise tired, ageing skin and radically improve the appearance of fine lines, wrinkles, open pores and acne prone skin conditions. Liquorice helps combat acne and hyper-pigmentation, whilst Glycolic Acid (derived from sugar cane), jump-starts the skin's metabolism – refining its texture by dissolving the bonds that hold dead skin cells together, so they're sloughed away with your morning cleanse to reveal a more luminous, glowing complexion.
8.CHARLOTTE TILBURY Filmstar Bronze & Glow, Amazon,£72.00
– another cult product, loved by so many celebrities. Love the texture, shade, how you can build the bronzer up- another fav
9. Hourglass Ambient Lighting Edit 2015 Holiday Limited Edition – I wanted to try all of Hourglass products and this palette was a dream come true. As the company says The Ambient Lighting Edit is designed to give you everything you need to finish, brighten, contour, and highlight your skin in a single compact. Featuring the Ambient® Strobe Lighting Powder in Iridescent Strobe Light, a sheer illuminating highlighter that's designed to emulate the way in which strobe lights capture and reflect light on the face. The optically transparent particles in the Ambient Lighting Blush and Bronzer allow for seamless blending, color transitions and natural contouring. Each product is universally flattering and delivers a multidimensional luminescence to every skintone, making it appear softer and lit-from-within. These Ambient Lighting products use Photoluminescent Technology to filter out harsh light and refine the appearance of the complexion enhancing skin in any lighting, including flash photography. And yes it does that- my skin looks so luminous after I apply it to my face. I guess there is no other product like that on the market. Love!
10.Becca Shimering Skin Perfector in Opal, £30.00 Cult Beauty– perfect creamy highlighter I love to use on my cheekbones.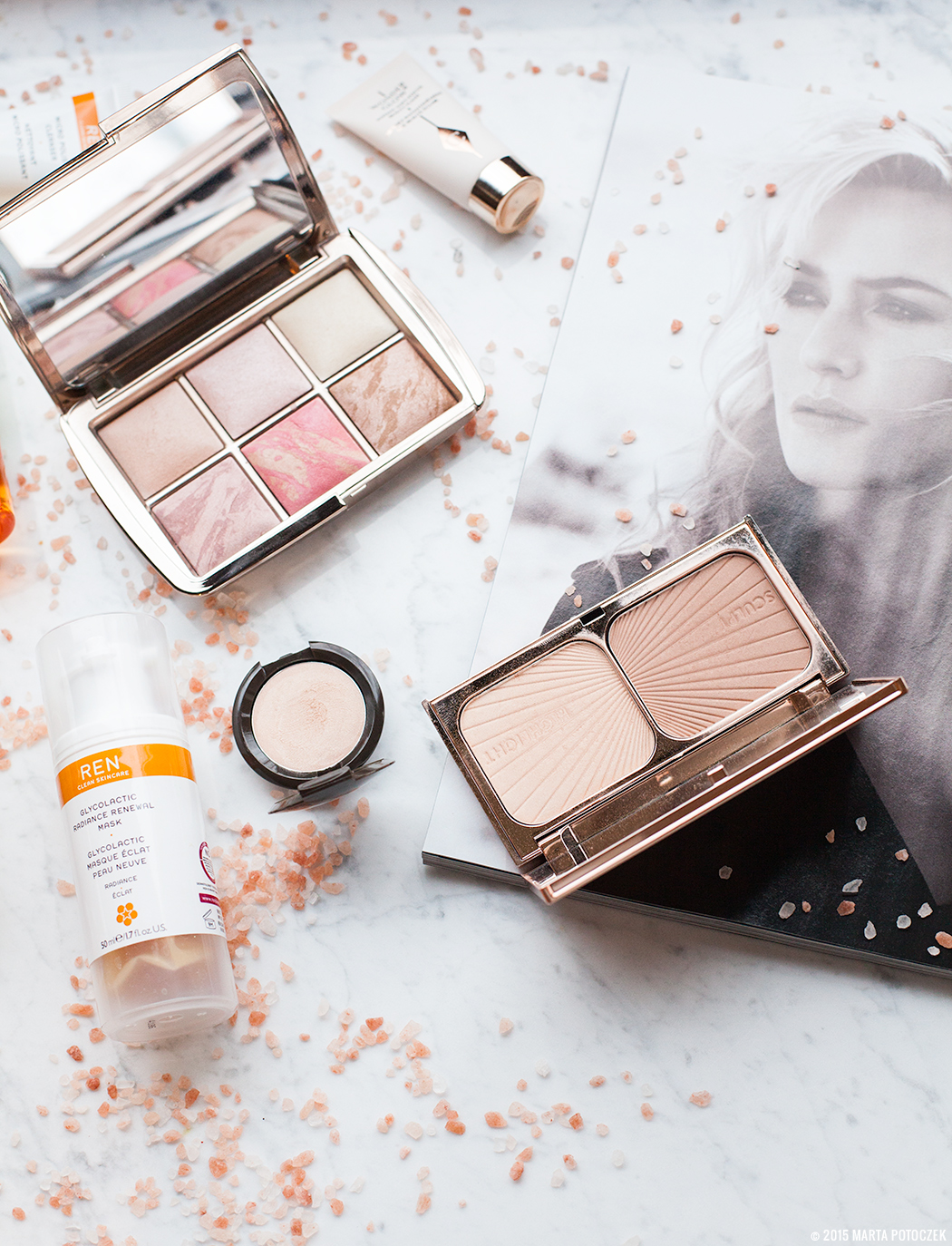 So my routine nowadays looks like this:
Twice a week I use REN's glycolactic mask.
Morning: I wash my face with Oskia using my clarisonic or muslin cloth, wipe my face with pixie glow tonic and apply Caudalie premier cru cream to my face and eye cream. Then as a primer I use wonderglow, add my Bobbi Brown foundation, concealer, do my eyes, use Becca's skin perfector on my cheekbones, then bronzer, then blush and powder from Hourglass palette.
Evening: I take my make up off, wash my face with oskia and muslin cloth, use liquid gold and then Good genes plus eye cream. Off to bed.
My skin looks really well, even this week, when I'm down with a terrible cold, there are no breakouts or any shady business under the skin, which usually happens to me when I'm sick. The skin looks fresh and plump and is very soft when you touch it.
Hope that was helpful!