Buckwheat and butternut squash salad
Fall is here in Poland. All those beautiful colors of leaves and cold. As the summer comes to an end I try to eat more food that warms me up and makes me full. If I don't my minds starts doing the "give me something caaarbyyyy , something sweet, a lot of it". To surpass that longing I start my day with oatmeal follow by warm soups, warm salads and grains. Today I felt like having some buckwheat and butternut squash so I came up with this recipe. I used cloves, allspice and cardomom while baking – I loved that mix from one of Ottolenghi recipes, it goes amazing with all kind of winter squash. I soaked my buckwheat for 12 hours, as it is easier to digest and cooks faster(in less than 15 minutes). I added some goat cheese for the saltiness, sunflower seeds for the crunch. Vinaigrette is made from mustard, apple vinegar, maple syrup and tahini and gives you a nice mix of creamy, sweet and sour.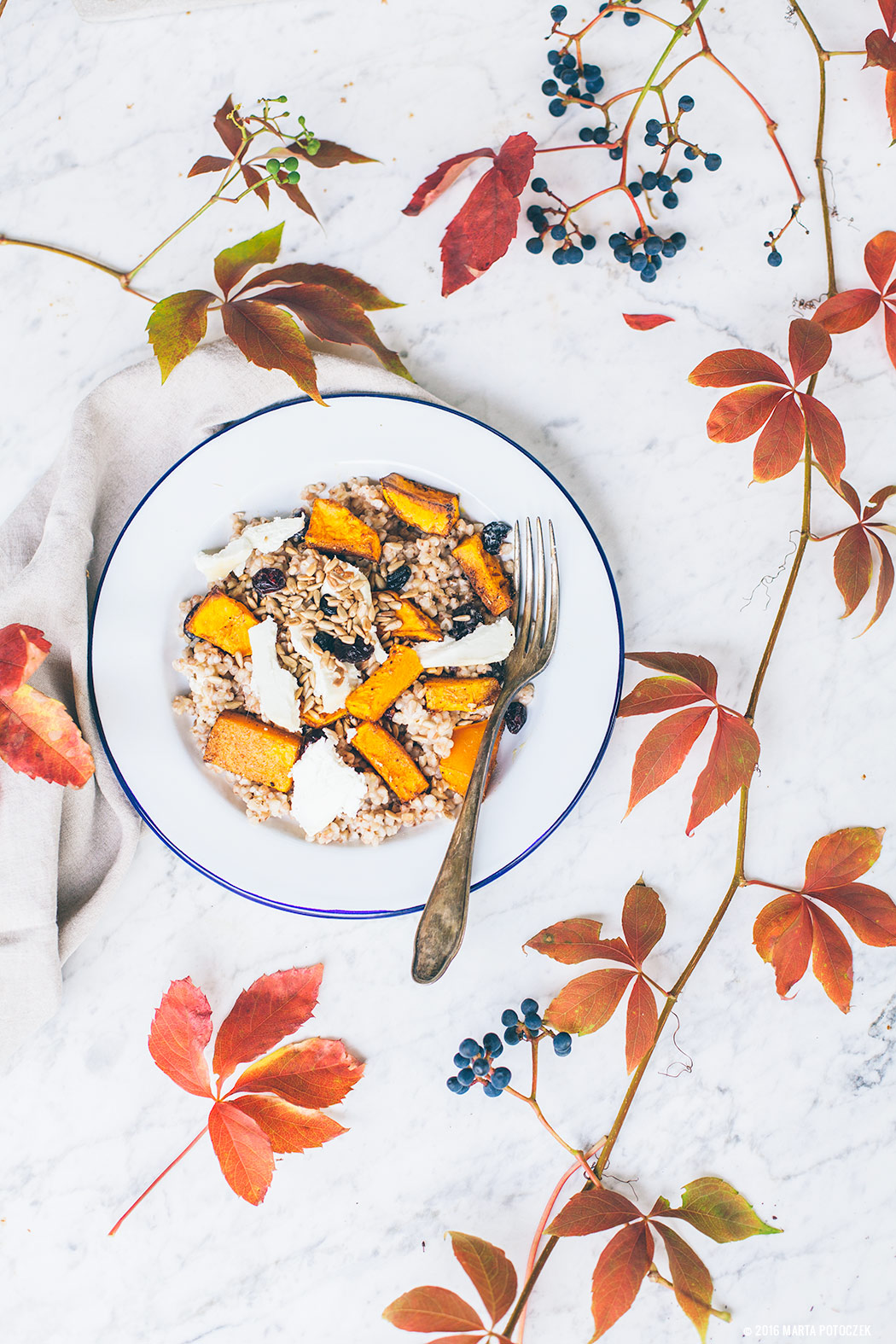 Buckwheat and butternut squash salad
Ingredients
1 cup dry buckwheat(best soaked for 8-12h with 1 T apple vinegar, than rinsed with cold water)
1 small butternut squash (peeled, seeded and cut into 2 cm cubes)
100 g soft goat cheese
1 handfull of dried cherries and cranberries
100 g sunflower seeds
For the butternut:
1 T allspice
1 T cloves
1 T cardamom pods
olive oil
salt
Vinaigrette:
2 T apple vinegar
1T Dijon mustard
2T tahini
2T maple syrup
Instructions
Preheat the oven to 180C. In a spice grinder grind allspice, cloves and cardamom.
In a bowl toss butternut cubes with olive oil, salt and spices. Put on a baking sheet and bake for 35-40 minutes or until tender.
Cook buckwheat with 2 cups of water. It takes me about 15 minutes. Drain and rinse with cold water.
In a bowl mix buckwheat, dry cherries, butternut squash, goat cheese. In another bowl or a jar mix mustard, apple cider, maple syrup, tahini and a teaspoon of sea salt. Add to the big bowl and toss with two spoons. Sprinkle with sunflower seeds and serve.
Notes
https://www.lazysundaycooking.com/buckwheat-butternut-squash-salad/
Marta Potoczek