This hearty salad is all about spring. I used purple tomatoes, just because it looks so pretty. You can use regular potatoes as well. Broad beans are not in season yet, but I buy frozen ones, that need just 3-4 minutes of blanching in hot water. I like having this either for lunch or dinner.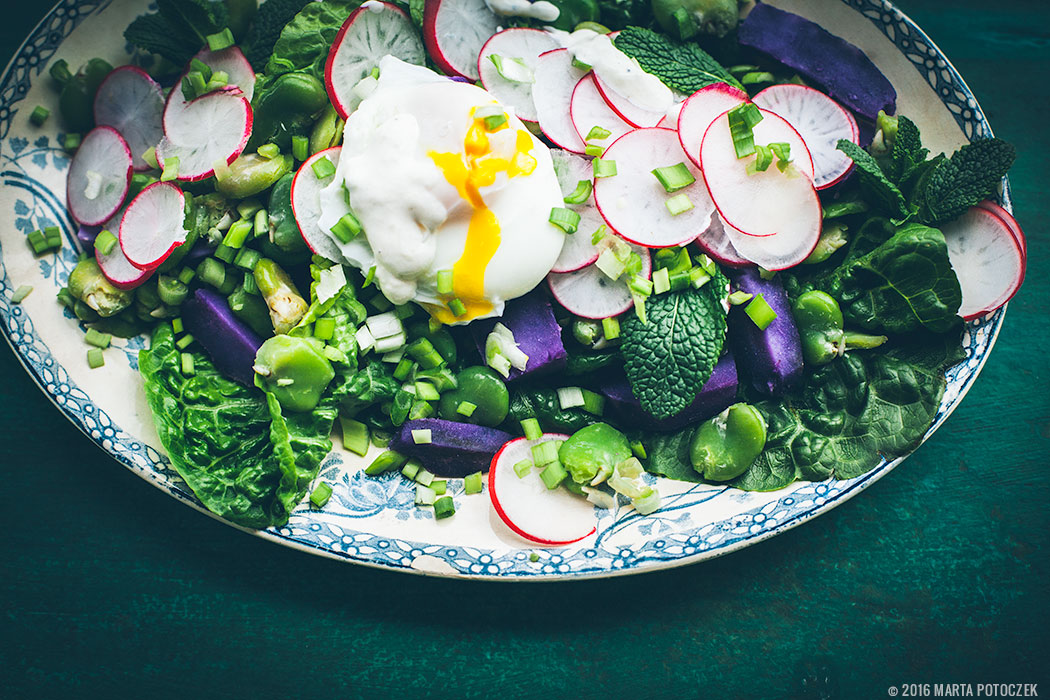 Ingredients:
one poached egg – click for a how to poach an egg
five small purple potatoes
10 radishes
bunch spring onions
200 g fresh or frozen broad beans
one large romaine lettuce
bunch of mint
one head garlic
half a cup Greek yogurt
salt, pepper, olive oil
First: Take whole head garlic and cut the top of, sprinkle with salt and olive oil, cover in aluminium foil and bake at 220C for 25 minutes. Let cool. In a meantime cook potatoes with their skins on in salted water for 20 minutes, drain, cover in cold water until cold. Blanch broad beans in boiling water for 4 minutes, drain and put in ice cold water for a minute. Drain again. Make poached egg.
Slice radishes on mandoline. Chop spring onions.Skin the potatoes and cut into smaller parts. Assemble salad: tear romaine lettuce, put potatoes, broad beans on top. Sprinkle with mint leaves, chopped spring onions and sliced raddishes.
Make aioli: squeeze garlic from the skins and make a paste from it with a fork. Add Greek yogurt, salt and pepper to taste. Mix the salad with aioli. Serve with poached egg on top.