Todays topic is : best face masks on the market. I spent last year researching and testing loads of products and today come with a solution for skin types and ages.
When I was a little girl using face masks seemed like a luxurious thing only chic women did. You know silky robe, bubbly bath and a face mask on. Now as almost forty year old I find my biweekly face masks a routine similar to washing my face everyday. And they really do wonders! I try to teach my daughter all the good things that come from face masks and hope she uses them all her life, not like me who discovered this routine just a few years ago.
So today I come with my all time favourites and new ones I just discovered and loved from the very beginning.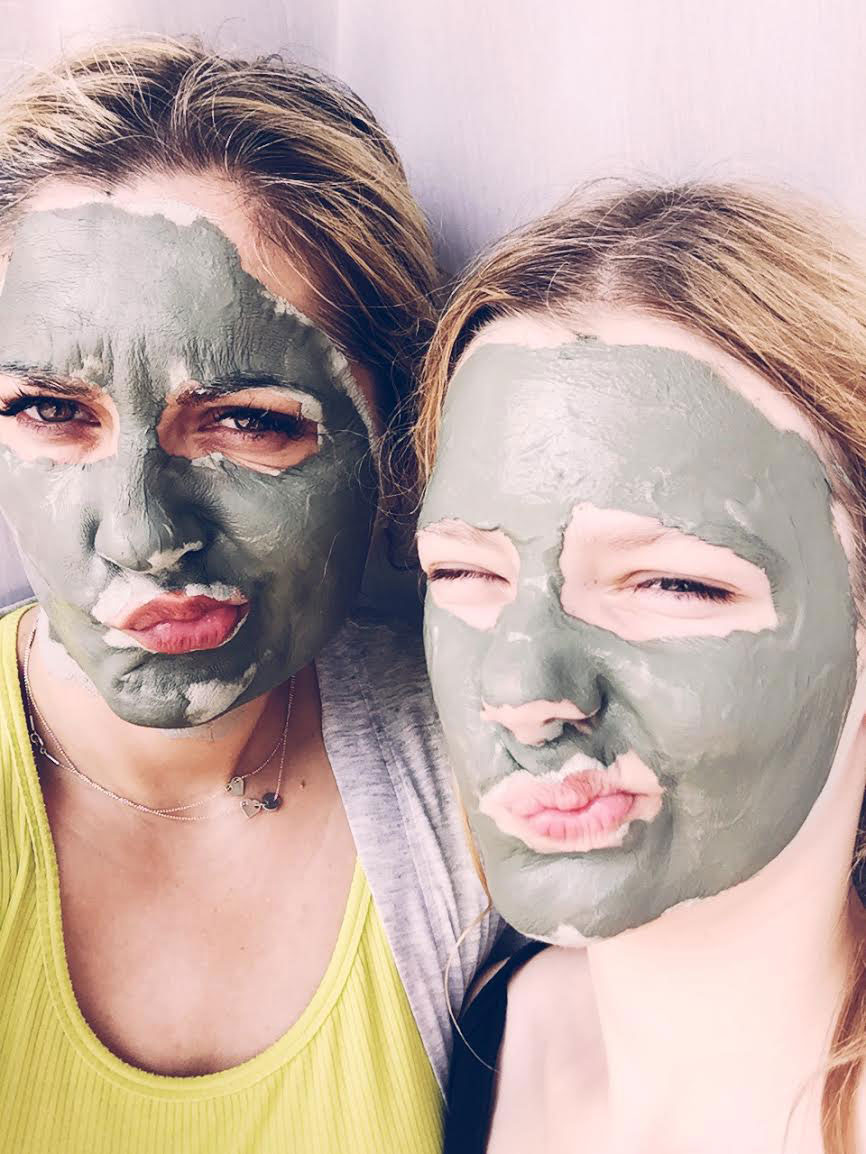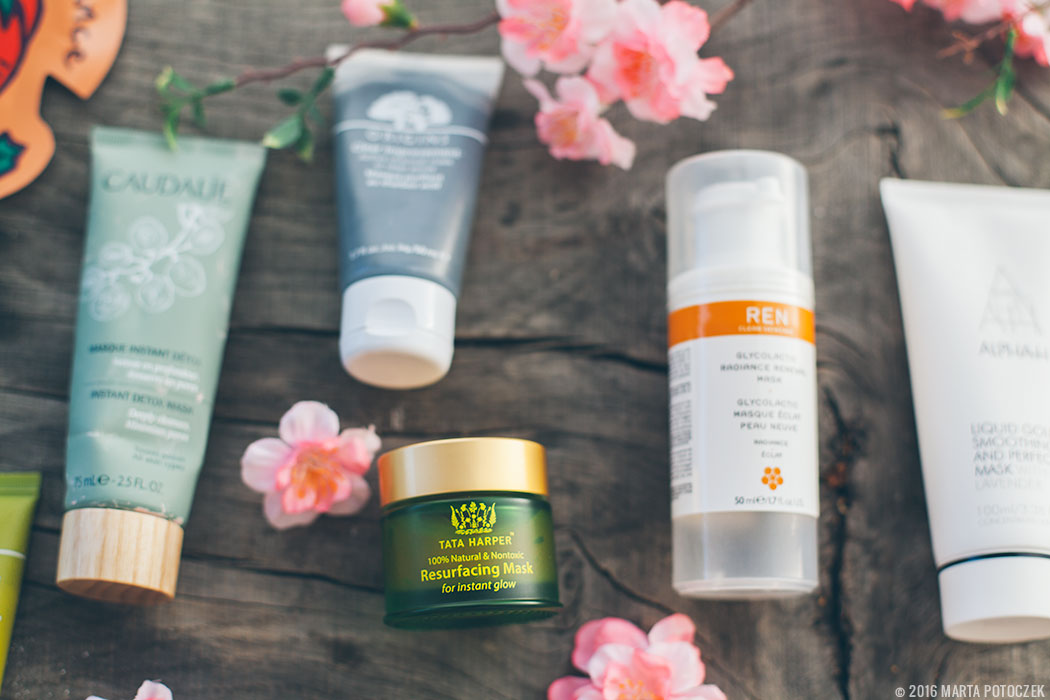 First three masks are perfect for exfoliating, getting you the glow and letting go of that tired grey look your skin might have after long winter.
REN Glycolactic Radiance Renewal Mask ( 50ml ) CULT BEAUTY £32.00 THIS is a godsend for congested, sun damaged and mature skin. Made with 5-6.5% Glycolic Acid, it is both gentle and effective at exfoliating away dirt, actively dissolving the bonds that hold dead skin build-up to reveal a healthy glow.I have used several bottles of this beauty- yes you do glow after using it. It tingles a bit but nothing scary.
TATA HARPER Resurfacing Mask ( 30ml ) CULT BEAUTY £47.00 Suitable for all skin types – except the especially sensitive – this refreshing and softening mask contains pink clay, to draw impurities from the skin to improve the appearance of enlarged pores without stripping your skin of its natural oils; Beet Extract promotes hydration in the outer layers of skin to increase elasticity; White Willow Extract gently exfoliates, relieves redness and refreshes the skin's appearance; Aloe Vera naturally stimulates healthy cell growth while repairing damaged tissue and Witch Hazel helps soothe inflammation whilst protecting against the harmful effects of environmental aggressors. It seems very gentle but once you wash it off you like after a week in a spa, glowing like JLo 🙂
ALPHA H Liquid Gold Smoothing & Perfecting Mask ( 100ml ) CULT BEAUTY £48.00
Alpha-H, pioneered the use of Glycolic Acids in skin care nearly 20 years ago. Their cult cosmeceutical formulas are endorsed by a global following of clinicians for their fast and visible results on signs of ageing, sun damage, sensitivity & acne. Part of the Alpha H Liquid Gold family, this mask contains all of the same amazing multi-functioning properties of Glycolic Acid for when your skin needs a super charged boost after a late night or is looking a bit tired, dull or hypo/hyperpigmented. I wrote my love for liquid gold and got this some time ago to try. It goes into my top three faves easily!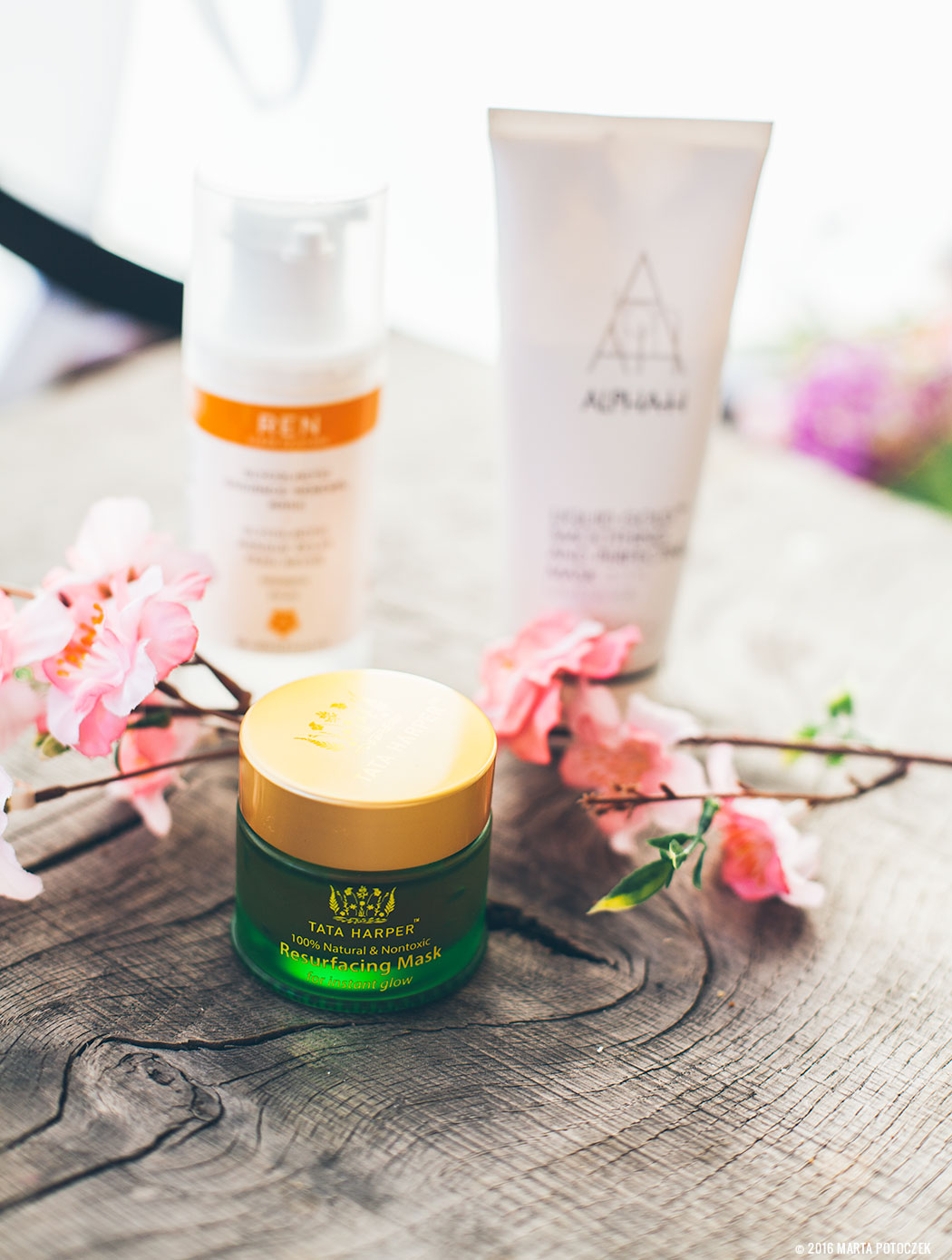 Next up: masks that clean all impurities
CAUDALIE Instant Detox Mask ( 75ml ) John Lewis £22.00
Powerfully detoxifying, this draws out impurities to alleviate congestion and reduce the probability of blemishes or breakouts, while pink clay and coffee purge pores of blackhead-causing dirt and excess oil. Papaya enzymes brighten and invigorate, and grape marc exhibits powerful detoxifying properties, making this an ideal, fast-acting treatment ahead of a special occasion, or to purify skin at the end of a stressful week. Both Gaba and I use it. I like to apply it after a short session with Clarisonic and Oskia. My face feels super clean afterwards.
Caudalie Purifying Mask 75ml £22.00
A sebum regulating formulation that is gentle enough for even the most sensitive complexions.
The non-drying, purifying mask absorbs impurities and tightens pores thanks to an effective combination of gently clarifying clay plus anti-blemish sage and zinc. Camomile soothes an inflamed complexion, cypress and lavender provide astringent control for oiliness, and natural non-comedogenic linseed ensures that pores are unclogged.
MAY LINDSTROM The Honey Mud Cleansing Silk ( 100ml ) £64.00 CULT BEAUTY £64.00 honey, white clay and pure plant oils combine to eradicate impurities and re-establish skin harmony. This also works wonderfully as a treatment mask – the halloysite clay (one of the world's finest clays) helps to gently exfoliate and decongest, without leaving skin feeling tight or overexposed. This smells of mud and honey and I wasn't sure if I liked it at first, but it cleans my pores so well, not leaving my skin dry at all.
ORIGINS Clear Improvement™ Active Charcoal Mask To Clear Pores. £23.00 John Lewis A mask with activated charcoal to draw out deep-dwelling pore-cloggers. When environmental toxins, dirt, and debris get under your skin, its waste-filtering system gets jammed, pores get clogged, and skin looks cloudy. Nature's complexion clean-up crew gets to the bottom of skin's overcast condition and clears the way for it to act its best.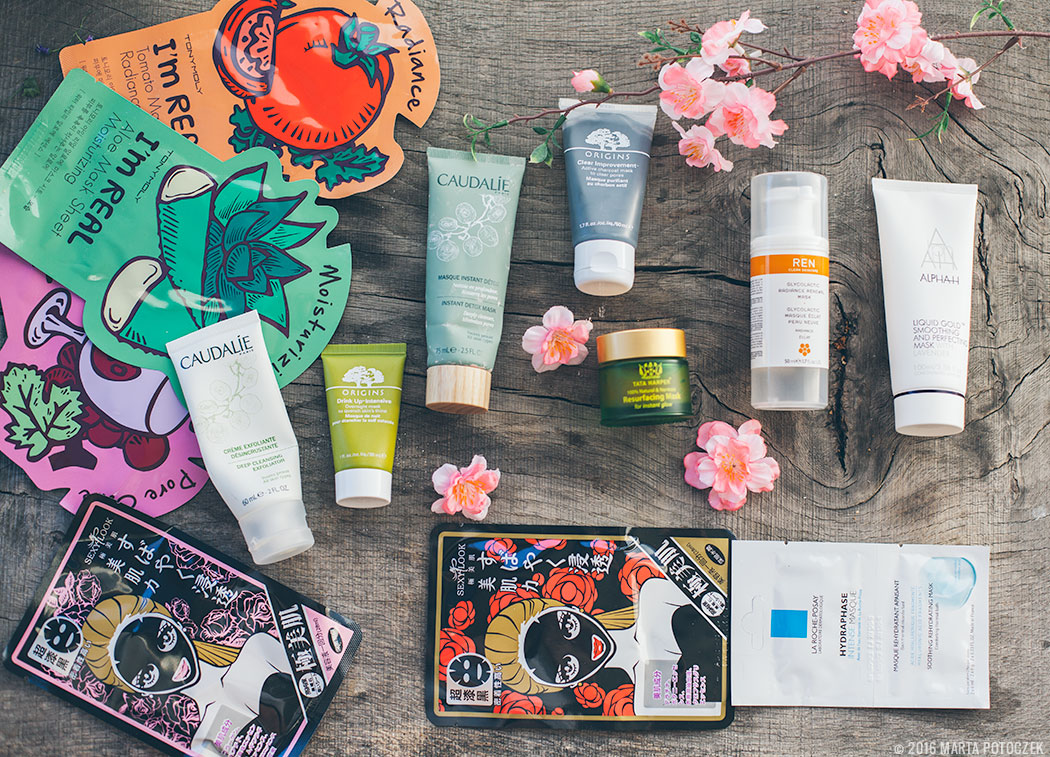 Sheet masks! The Korean beauty favourite – the sheet mask – is set to become a skincare hit in the coming months. I love Korean beauty techniques and sheet masks are one of their secrets!
What is it and why do you look so scary Marta? Sheet mask is exactly that; cloth or paper saturated in skin-loving ingredients that's left over your face for 10-15 minutes so your skin can absorb its fill of the good stuff. There are cutouts for your eyes, nose and mouth but still with the black ones I managed to scare members of my family and fellow plane travellers.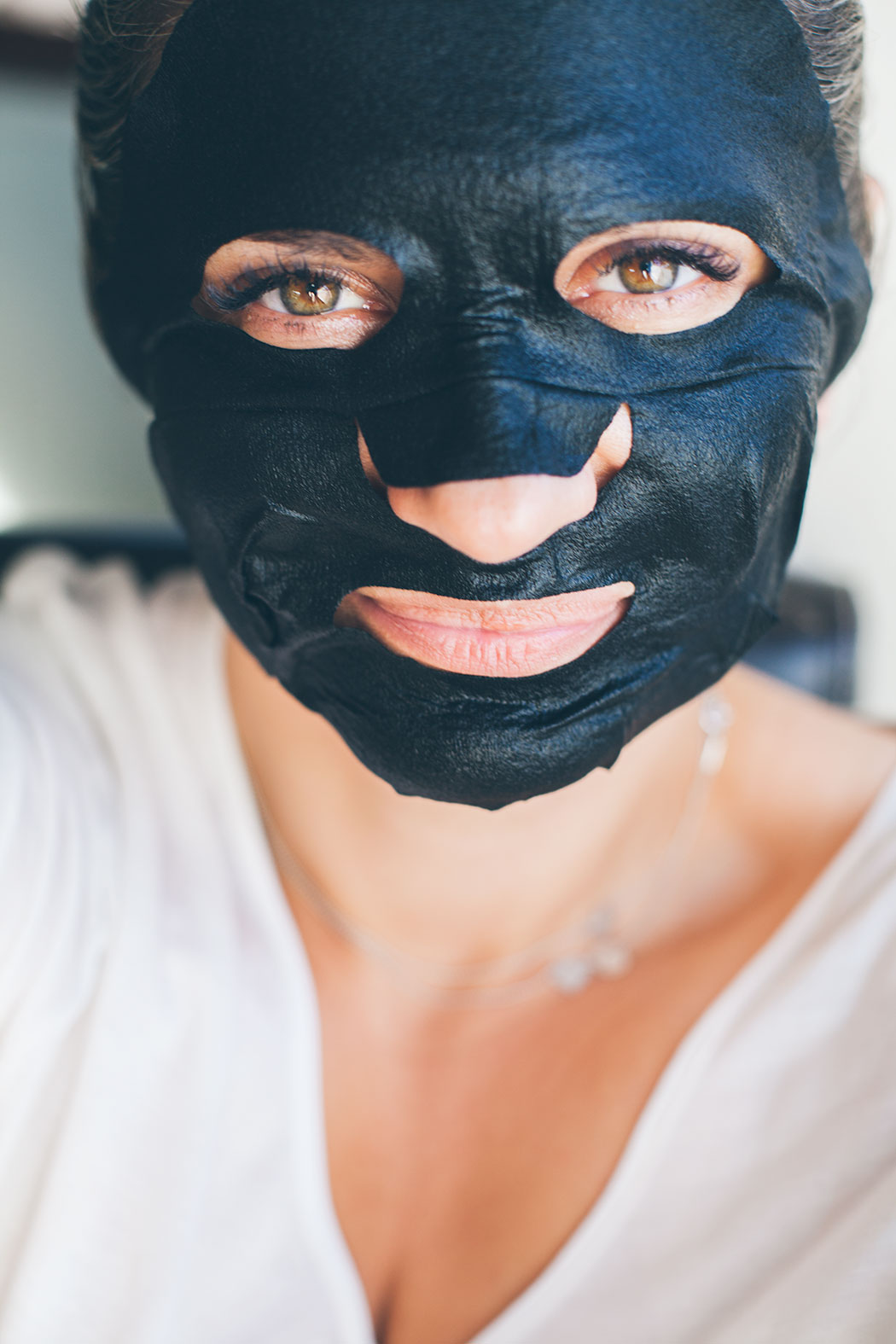 The ones I loved are:
Tony Moly "I'm real" mask– there are different types.
I bought the "sexy look" japanese sheet masks in Strawberry.net shop but they are not available right now 🙁 Love them!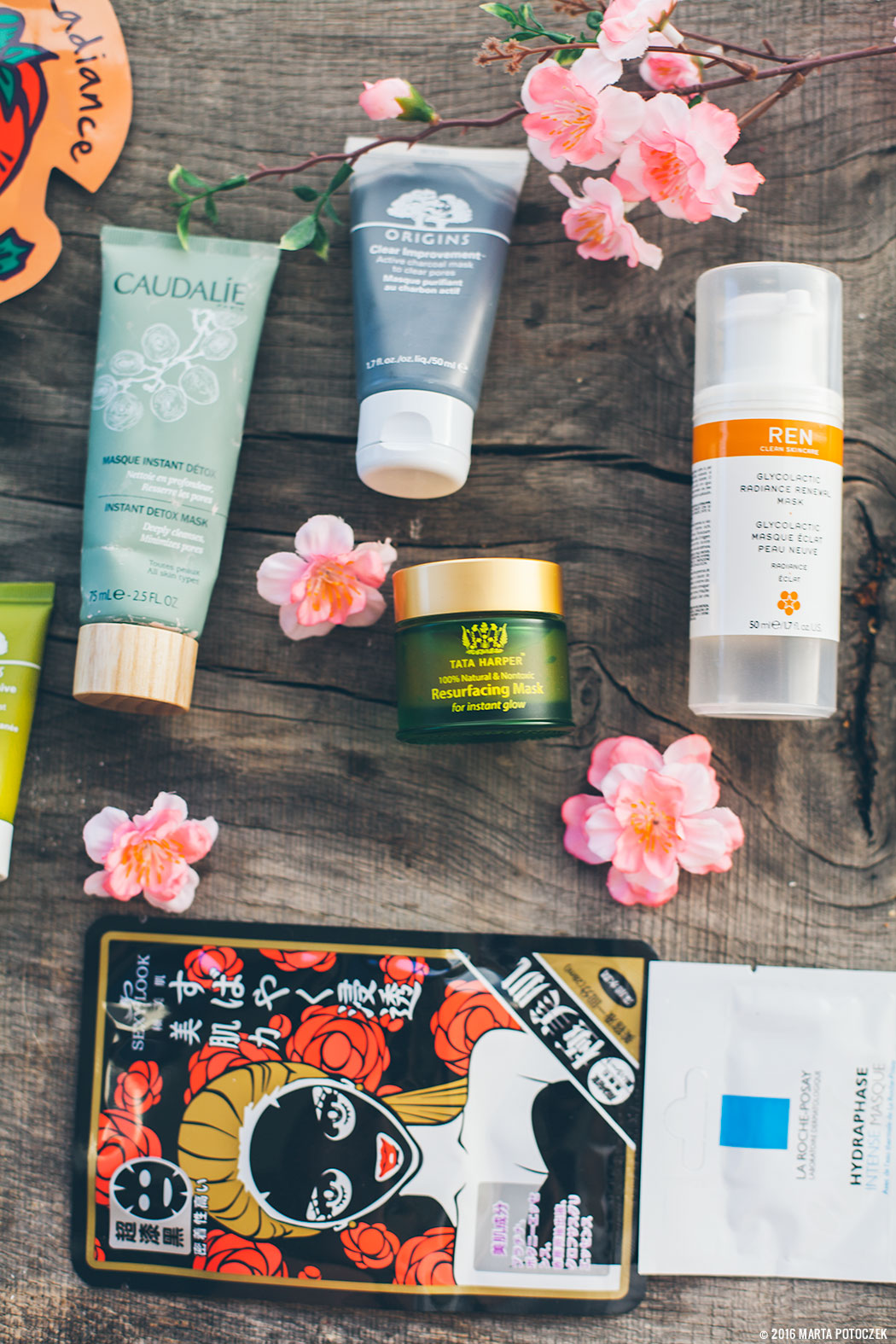 Last mention are the moisturising masks which I personally only use when my skin is really dry- being on a plane etc.
Origins Drink Up™ Intensive Overnight Mask To Quench Skin's Thirst, 100ml This intensive replenishing mask with nature's most nourishing nightcaps, plant glycerin, hyaluronic acid and apricot kernel oil, instantly quenches compromised skin with deeply satisfying moisture. Avocado oil and mango butters build up a reservoir for tomorrow and Japanese seaweed helps prevent future moisture loss. Skin awakens refreshed, replenished, ready to face the day.
or
La Roche-Posay Hydraphase Intense Masque – Soothing Rehydrating Mask 50ml It is enriched with two unique ingredients: La Roche-Posay Thermal Spring water, a natural anti-oxidant to sooth and calm the skin, and hyaluronic acid fragments to infuse and retain water in the skin for optimal hydration.