As Gaba and I wandered through farmers' market this weekend I saw beautiful yellow beets and first butternut squash. Then I spotted some purple carrots and I thought- I'll bake them and pair them with goat cheese and figs! Never done that before but I really liked all those pairing together. Since I am a proud owner of a blowtorch and I had an amazing brûléed goat cheese sandwich one day I thought I wanted to that to my cheese too. Oh yes! I like those days when my head works like this. Please try it! Soo good!Recipe is at the bottom of the page.
Just look at those beauties we found at the farmers' market!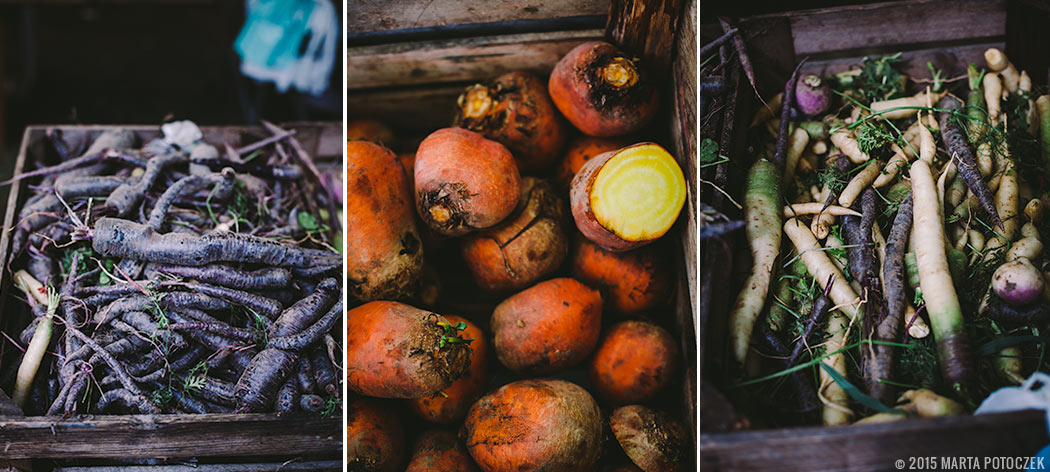 RECIPE -WARM BAKED ROOT VEGETABLES WITH FIGS AND BRULLED GOAT CHEESE
1 small butternut squash
2 medium yellow beets
2 purple carrots
goat cheese roulade cut into 1 cm thick slices
olive oil
2 T apple vinegar
bunch of thyme
salt, few tablespoons of demerara sugar
4 fresh figs
balsamic reduction - crema di aceto balsamico
Preheat the over to 200C. Wash veggies and cut them into 3 or 4 pieces. Drizzle with olive oil, apple vinegar, sprinkle with salt and put 3/4 of the thyme on top. Bake until they are soft. Beets might take a bit longer than the rest, so start checking after 40 minutes. On a platter arrange vegetables, fresh figs. Sprinkle goat cheese disc with demerara sugar and heat with a blowtorch until the sugar caramelises. Serve with a drizzle of balsamic reduction and sprinkle of fresh thyme.